The Doctors Revisited 5th – 8th DVD (USA)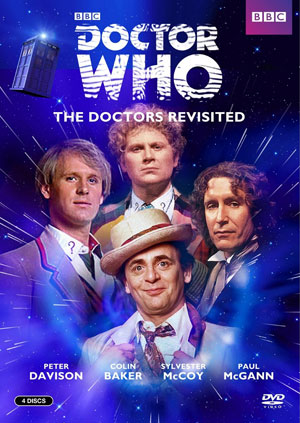 Doctor Who: The Doctors Revisited 5th – 8th DVD
In this exceptional commemoration celebrating the 50th Anniversary of Doctor Who we continue our look back at the actors who have portrayed this iconic hero over its historic past.
The years 1981-1996 saw four new actors portray the Doctor, Peter Davison (1981-83), Colin Baker (1984-86), Sylvester McCoy (1987-89) and Paul McGann (1996).
Current Doctor Who showrunner Steven Moffat is joined by actors from Doctor Who's storied past including Downton Abbey star Hugh Bonneville and others to look back at the unique characteristics that make each actor's portrayal a thrilling new adventure. And each retrospective is followed by one full story for each Doctor, including Earthshock, Vengeance on Varos, Remembrance of the Daleks, and Doctor Who: The Movie, presented in both widescreen, feature-length version and in its episodic, original format. The Doctor's Revisited is a celebration of Doctor Who that true fans won't want to miss!
Available to order from the USA from www.amazon.com
Please note if you are in the UK and order items from the USA you may have to pay import tax and handling costs.
---
Also available…
Doctor Who: Series 1-7 Limited Edition Blu-ray Giftset
For the first time ever, BBC Home Entertainment is collecting the complete new Doctor Who together on Blu-ray along with an amazing assortment of additional items, including a completely unique Doctor Who Universal Remote Control Sonic Screwdriver, three original art cards, and an exclusive Doctor Who comic book.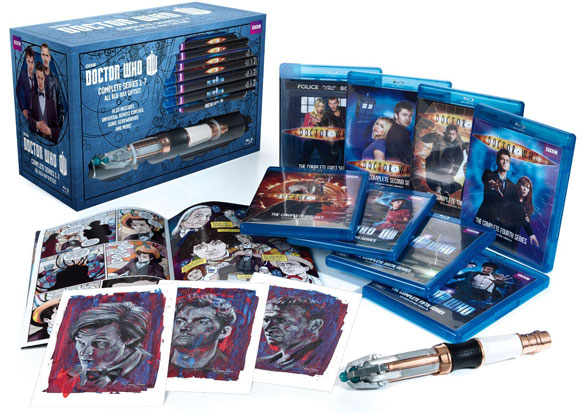 The collection includes Series 1-4, featuring Ninth Doctor Christopher Eccleston and Tenth Doctor David Tennant, making their Blu-ray debut in newly remastered versions at full 1080p high definition, plus the David Tennant Specials collection and Series 5-7 featuring Eleventh Doctor Matt Smith, also on 1080p high definition Blu-ray. All the bonus features from the previous releases are included, as is a bonus disc with three new-to-Blu-ray specials: The Brit List's Ultimate Doctor Who List of Lists;
The Best of the Christmas Specials; and the full 90-minute Doctor Who at the Proms, newly remastered with 5.1 Surround Sound.
Catch up with the complete new Doctor Who just in time for the historic 50th Anniversary Special this fall. This is the definitive Doctor Who collection for the ages.
Available to order from the USA from www.amazon.com