The Celestial Toymaker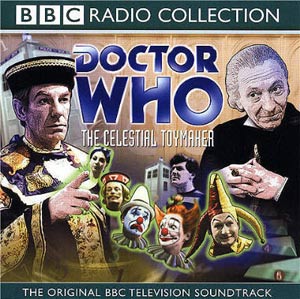 The Celestial Toymaker
William Hartnell stars as the first Doctor in this classic four  episode story from 1966.
The TARDIS crew come up against one of the most powerful enemies they have ever encountered…
The travellers arrive in the dangerous domain of the Toymaker, where their failure to win at a series of games could result in them becoming his playthings for eternity.
Apparently innocuous nursery characters reveal deadly intent, and for companions Steven and Dodo the stakes are raised with every game of blind man's buff and musical chairs. The Doctor, meanwhile, is rendered invisible and given the challenge of completing the fiendishly difficult Trilogic game.
This fondly-remembered story, only one episode of which survives in the television archives, is narrated by Peter Purves who also played Steven in the story.
Michael Gough is the Toymaker and Jackie Lane is Dodo, whilst Carmen Silvera adopts a number of roles.