The Bluetooth Wireless Tardis Speaker
The Bluetooth Wireless Tardis Speaker
For more information and to order visit Forbidden Planet or www.whosounds.com. You can also keep up to date via their Twitter or Facebook pages.
A BIGGER sound on the inside!…
Announcing the arrival of THE Bluetooth Wireless TARDIS Speaker Celebrating the 50th Anniversary of Doctor Who!
The ONLY speaker licensed by BBC Worldwide.
Plays music from ANY Bluetooth enabled device!
Great style and functionality that could only come from Gallifrey!
Be amazed by the AWESOME sound it delivers!
Glowing TARDIS lamp – flashes blue when paired to your device.
Pair the TARDIS with your device and hear the TARDIS landing sound.
The TARDIS Speaker – playing music from any universe!
Product features
The TARDIS is a product of the advanced technology of the Time Lords, an extraterrestrial civilization to which the Doctor belongs..
A properly maintained and piloted TARDIS can transport its occupants to any point in time and any place in the universe.
The interior of a TARDIS is much larger than its exterior, which can blend in with its surroundings using the ship's "chameleon circuit".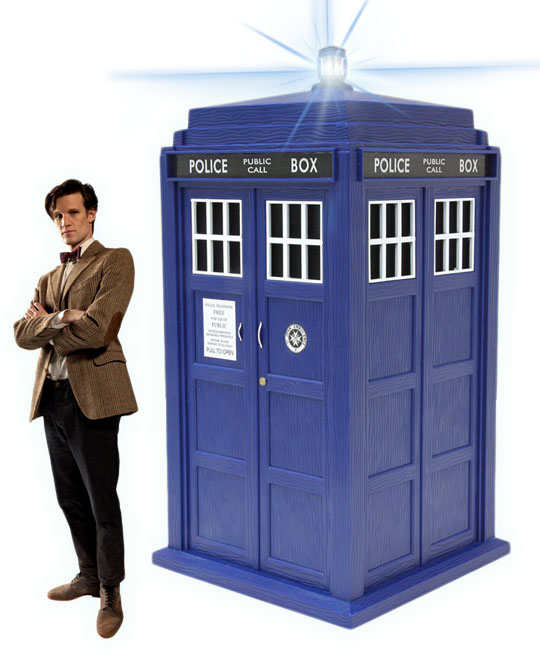 Awesome sound that you would expect from the Doctor. Magical features to give you the enjoyment of owning the only TARDIS speaker ever to be made.
With Bluetooth connectivity you can pair any smartphone or Tablet to this beautifully detailed manufactured speaker.
Connect and enjoy wireless sound that will transport your music anywhere around your home or office.
No docking required, as soon as you come into the room the unit will recognise your pairing and be ready to play at your request.
With built in digital speakers and subwoofer it is definitely bigger on the inside! A quality of sound you could only expect from a highly technical Time Lord.
Key Features
Electronic Volume Control +/-
2.1 Channel Speaker System
Highly efficient amplification technology
Professional three speaker design
Bluetooth 2.1 +EDR, A2DP & AVRCP
USB Charger
Dual colour LED indicator (Blue and White)
Aux-in 3,5mm
A remote control (factory standard design) – Volume, Bass, track forward, track Back, Power on/off, Bluetooth and Aux connectivity
9 second BBC Doctor Who TARDIS Landing soundtrack when pairing to Bluetooth.

For more information and to order visit www.whosounds.com. You can also keep up to date via their Twitter or Facebook pages.