Tenth Doctor Icons Ladies' T-Shirt (Think Geek)

Available to order in the USA from www.thinkgeek.com
Slip into your comfiest Converse trainers and celebrate the highlights of the Tenth Doctor's tenure in the TARDIS with this cute ladies' tee!
This blue (naturally) shirt features a simplistic black design made up of iconography pulled from the David Tennant era of Doctor Who. His spiky hair, his sonic screwdriver, even the return of K9 are all commemorated – as is that time the Master ran for office. "Vote Saxon" still gives us chills…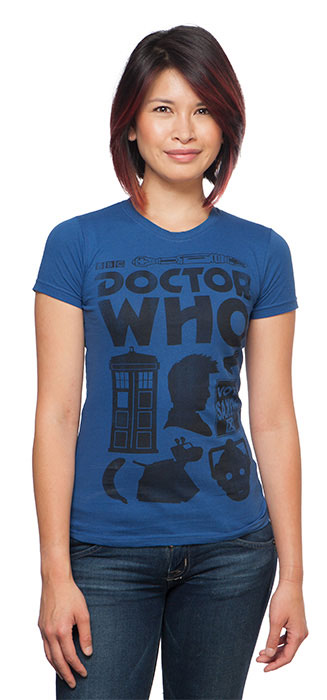 As for the banana symbol, just remember the sage advice the Tenth Doctor shared with Rose: "Always take a banana to a party."
Wearing a banana on your shirt is just the next step in party preparedness! Besides, Whovians shouldn't need to find a fruit stand just to have a good time.