Special Edition Warriors' Gate 4th Doctor Audio CD
Available to order from www.amazon.co.uk
BBC Audio announced an exclusive audiobook edition of Doctor Who: Warriors' Gate by Stephen Gallagher, based on the author's original, never-before-seen version.
Jon Culshaw reads this iconic novelisation of a Fourth Doctor TV adventure, newly restored and extended by the author.
The Doctor and his companions are trapped in E-Space, struggling to find their way back into their own universe. Arriving at an intersection, the TARDIS is invaded by a refugee of the enslaved Tharil race.
With K9 damaged by the Time Winds, the Doctor, Romana and Adric explore the strange white eternity of the Gateway, where past, present and future cross over.
They also meet the crew of the Privateer, led by the embattled Rorvic. As all parties strive to find a way out, the Doctor realises that Rorvic's ship holds the terrible secret of the Tharils' history, and the means of their liberation.
Jon Culshaw reads Stephen Gallagher's novelisation (writing as John Lydecker) of his 1981 TV adventure starring Tom Baker as the Doctor, now newly extended and restored from the original manuscript. John Leeson provides the authentic Voice of K9.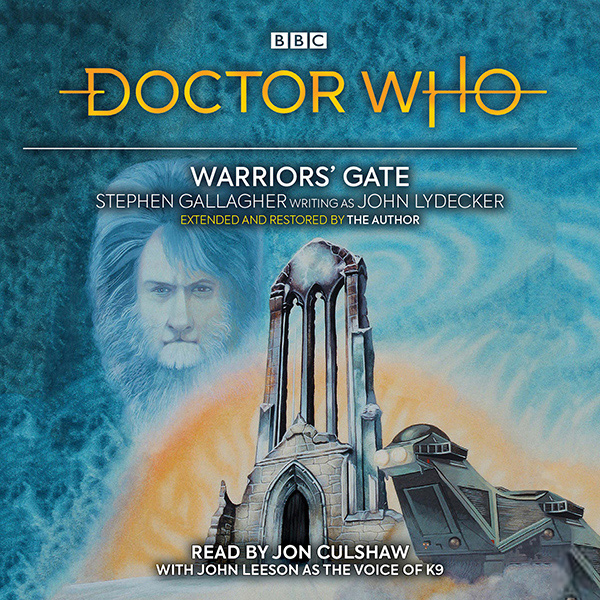 BACKGROUND
DOCTOR WHO: WARRIORS' GATE, first broadcast on BBC1 in 1981, was a four-part TV serial in Tom Baker's final season as the Fourth Doctor. Notable at the time for its high-concept story and its cinematic visual style, it has subsequently become highly regarded as a unique slice of Doctor Who.
Writer Stephen Gallagher novelised his scripts for the Target Books range, under the pen name John Lydecker. Before publication, however, the book was substantially reworked and reduced in length. Ever since, Doctor Who fans have speculated about what the original manuscript might have contained.
Now, for the first time, Stephen Gallagher has reassembled that original manuscript from his original paperwork, enabling listeners to experience the novelisation as he originally intended it, substantially longer and with significant structural changes. This version also now better reflects the author's original vision for the TV episodes.
Stephen Gallagher says: "I couldn't be more delighted with the way it's all worked out. Performed by Jon Culshaw, with John Leeson reprising the voice of K9, it's feeling more like a resurrection than a reconstruction."
ABOUT THE AUTHOR
After getting his TV break with scripts for two seasons of Doctor Who, Stephen Gallagher went on to become a writer and director of miniseries and episodic television. Credits range from 1990s gene-splicing thriller Chimera to ITV science drama Eleventh Hour and its US remake by producer Jerry Bruckheimer, which took him to Los Angeles. He was showrunner and lead writer on NBC's Crusoe and later joined ABC crime show The Forgotten, starring Christian Slater, as writer and co-executive producer. British series work includes anthology show Chillers, period detective drama Murder Rooms, and BBC technothriller BUGS. He adapted and directed his novel Oktober as an ITV miniseries and contributed feature-length episodes to Rosemary & Thyme. His two-part Silent Witness picked up a European Science Award for Best TV Drama and he recently worked on Stan Lee's Lucky Man for Sky.
A Stoker and World Fantasy Award nominee, winner of British Fantasy and International Horror Guild Awards for his short fiction, his fifteen novels include Down River, Valley of Lights, and Nightmare, with Angel. Theatre and music hall provide the backdrop for a historical series that began with The Kingdom of Bones and The Bedlam Detective and continues in The Authentic William James.
ABOUT THE READERS
Jon Culshaw is warmly regarded by many as Britain's best impressionist with an unmatched versatility and a catalogue of over 350 voices and impersonations including Boris Johnson, Donald Trump, Professor Brian Cox, Barack Obama, Alan Carr, John Bishop and Michael McIntyre. As a self-confessed fan of Doctor Who, Jon is responsible for voicing many of the audiobooks, with frighteningly accurate Tom Baker and Jon Pertwee voices.
John Leeson played the Voice of K9 in Doctor Who between 1978 and 1981, and later in K9 & Company, The Sarah Jane Adventures and K9.