Sixth Doctor Costume Designs

Sixth Doctor Costume Designs Now in stock
The Collectable Art Company is pleased to announce that the first in a series of Limited Edition Fine Art prints of original Doctor Who costume designs is now in stock.
During a break in recording an audio play last week The Sixth Doctor himself Colin Baker signed a quantity's of Pat Godfrey's final design of the distinctive, multi-coloured Sixth Doctor's costume. 'Totally Tastless' is limited to 1500 high quality individually numbered A2 prints, which has also autographed by costume designer Pat Godfrey.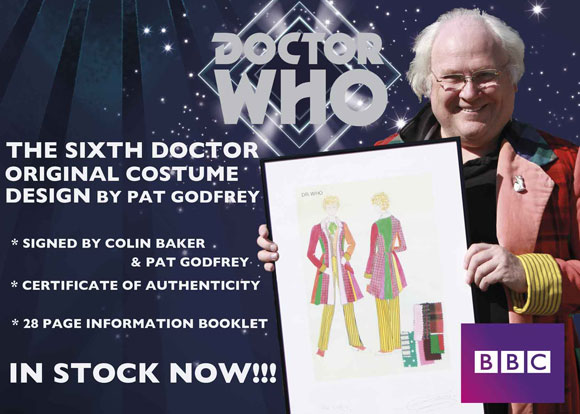 Each print is accompanied by a Certificate of Authenticity and a special 28 page Script to Screen booklet which describes the making of the iconic costume, plus an interview with Godfrey and introduction by Baker.
Grahame Flynn, Managing Director of The Collectable Art Company, said:
"Colin invited me to meet him at a recording studio in Somerset last week to sign the first batch of prints. He was also reunited with his original costume! We have sent out all those prints that were pre-ordered and are pleased to advise collectors that we now have a quantity of prints signed by Colin Baker and Pat Godfrey in stock and available for immediate dispatch."
The Sixth Doctor print is available now from www.thecollectableartcompany.com
(Source: The Collectable Art Company Ltd)