SFX Presents Doctor Who: The Fanzine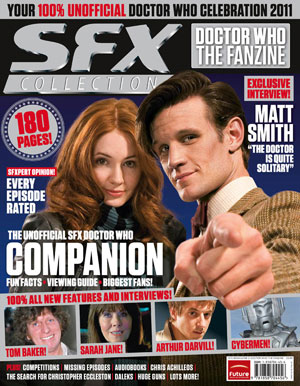 SFX Presents Doctor Who: The Fanzine – On Sale 23 November
Available in all good newsagents and supermarkets for three months from the day of Doctor Who's 48th birthday (or you can order a copy online), Doctor Who: The Fanzine from the makers of SFX is the ultimate tribute to the nation's favourite television programme.
Across 180 packed pages, we look at Who from every possible angle, including a few never seen before! All this content is 100% new – you won't have seen ANY of it elsewhere! (Well, apart from little excerpts we'll be putting up on the site next week to entice you to buy it.)
So what's in it? How about these treats for starters:
• Battle of the Superfans: we pit the show's self-proclaimed biggest fanatics against each other to discover who deserves the title of Ultimate Superfan!
• New Matt Smith interview: the actor explains why playing the Doctor can be a solitary existence
• Arthur Darvill Fannish Inquisition: you quiz Rory Williams on dying, gerbils and series seven
• The Ten Greatest Doctor Who Moments You'll (Probably) Never See: the most tantalising scenes from Who's missing episodes, as imagined by the fabulous artists behind the Reign Of Terror DVD animation
• Full series six episode guide: 14-episodes examined minute-by-minute!
• A Hitch In Time: looking at Patrick Troughton's other time travelling role
• Tom Baker & Louise Jameson interviewed: we put your questions to the Fourth Doctor and Leela
• The latest instalment in our rib-tickling cartoon strip Arthur "Dies Daily" Darvill Vs Murderous Moffat
• "Chasing Christopher Eccleston": our (unsuccessful) attempts to grab a word with the Ninth Doctor!
And much much much more
Full details at www.sfx.co.uk