SFX Magazine Issue 251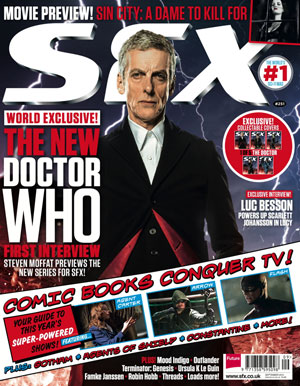 SFX Magazine Issue 251
SFX 251 is here – with a world exclusive look at Peter Capaldi's first series of Doctor Who! We bring you five collectable covers to celebrate! Plus: all the hottest views, news and features from every outpost of the geek universe!
Get your copy now! Buy your digital issue via Newsstand For iPad, iPhone or iPod Touch, or order your print copy from My Favourite Magazines. Also available on Google Play, Zinio,Kindle Fire and Nook!
RED ALERT
The creators of As Above, So Below chat about their brand new horror film. We hear from Felicia Day, explore Michel Gondry's Mood Indigo and dive into Robert Pattinson's latest, The Rover.
DOCTOR WHO
An unmissable exclusive interview with Steven Moffat! Brace yourself for the most revealing insight into series 8 to date, chatting about Peter Capaldi, the possibility of Peter Jackson directing a story and a sneak-peak preview of each and every episode.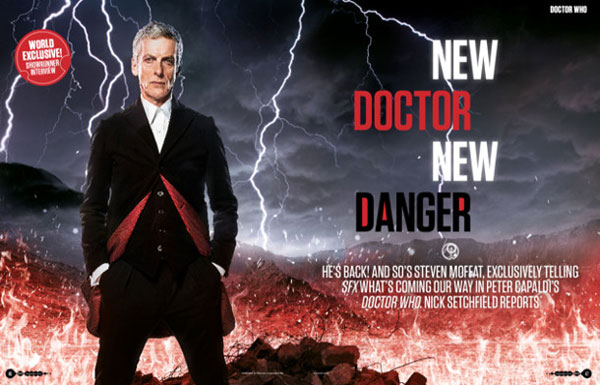 SUPERHERO TV PREVIEW
A look at the onslaught of superheroes set to appear on your TV this year. We uncover Marvel's plans for Agent Carter, the new Netflix Daredevil series and Agents of SHIELD series two. And get ready for Batman prequel Gotham, a new take on the Hellblazer comics, The Flash and loads more!
SIN CITY 2
Co-directors Frank Miller and Robert Rodriguez give us the latest on their sequel to Sin City, A Dame To Kill For.

LUCY
Writer/director Luc Besson talks about the creation of his latest movie, Lucy, starring Scarlett Johansson as a drug mule who becomes scientifically enhanced with a 100% brain capacity!
REVIEWS
Dawn Of The Planet Of The Apes is the big release this month, followed by The Purge: Anarchy. We also reveal our judgements on Transformers: Age Of Extinction, The Rover, Mood Indigo and many more!
PLUS: It's not just Mr Capaldi, you know! Choose from these supremely collectable Doctor Who covers!