SFX Magazine issue 250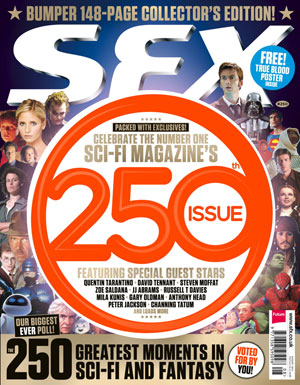 SFX Magazine issue 250
SFX has been charting sci-fi and fantasy since May 1995, and Wednesday 25 June sees its 250th issue landing in newsagents everywhere. You can make sure you get hold of your copy of the world's number one sci-fi and fantasy magazine by pre-ordering a copy from My Favourite Magazines – and getting the magazine delivered direct to your door.
As well as finding out the results of our poll to find the 250 greatest moments in sci-fi and fantasy (featuring contributions from David Tennant, Steven Moffat, JJ Abrams, Peter Jackson and many more), we've got exclusive interviews with Jupiter Ascending stars Mila Kunis and Channing Tatum, and Dawn Of The Planet Of The Apes director Matt Reeves, while Quentin Tarantino reveals his sci-fi favourites and the legendary Harlan Ellison talks about his classic Star Trek episode "The City On The Edge Of Forever". All that and the hottest sci-fi/fantasy news and reviews – you won't want to miss out.
SFX 250 is on sale from Wednesday 25 June.