SFX Magazine 208 with sound effects cover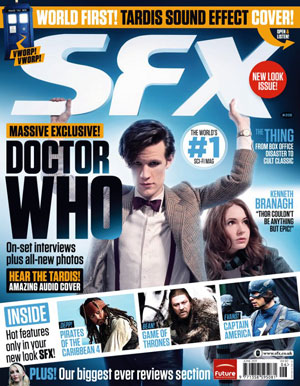 SFX Magazine issue 208
World first TARDIS sound effect cover!
If there's a problem with magazines, it's the not-insignificant lack of sound effects to accompany your literary journey.
The good news? This is a problem of the past (for one issue at least…) thanks to the world first TARDIS soundcard tucked inside issue 208.
SFX: a treat for all the senses. Next month: scratch and sniff (maybe).
Look Who's Back
To celebrate The Doctor's imminent return to telly boxes across the globe we popped down to the big smoke to snap time-travelling trio Matt Smith, Karen Gillan and Arthur Darvill for our exclusive cover feature. There's some words with that Steven Moffat bloke in there somewhere too.
Read more: SFX Issue 208 http://www.sfx.co.uk/2011/04/06/sfx-issue-208/#ixzz1IleJBqu7
More Information from www.sfx.co.uk

SFX Redesign: Take A Peek Inside…