SFX Magazine 194 3D Cover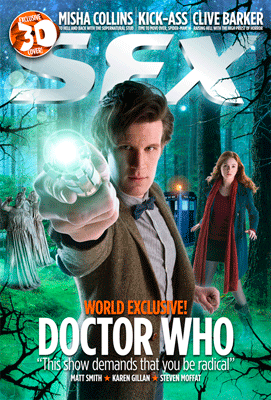 Major SFX Doctor Who Exclusive
SFX194, on sale 10 March, is going to have a very special cover indeed – a specially commissioned, eye-popping 3D image of Matt Smith as Doctor Who, Karen Gillan as Amy Pond and a couple of Weeping Anges lurking about the place too.
The animated gif here gives you an idea what to expect (just click on it to see what we mean), but you really need to see the real thing in all its glory when it hits the shelves in a couple of weeks' time.
The cover was created with the full association of the Doctor Who production team. SFX's art team popped down to Cardiff last month to conduct the exclusive photoshoot, to create an exciting image you'll see nowhere else.
The issue also includes a massive nine-page feature on the new series of Doctor Who, including all-new interviews with Matt, Karen and Steve Moffat.
For full details go to the SFX website Here