SFX Collection: Doctor Who – A Celebration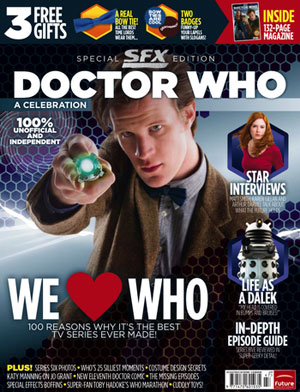 SFX Collection: Doctor Who – A Celebration
The latest one-off special issue – on sale 30 November – is a celebration of all things Doctor Who.
It's been two and a half years since we last produced a special devoted to Doctor Who – good grief, has it really been that long? – so we figured it was high time that we did another.
Doctor Who: A Celebration is the end result.
100% unofficial and independent, it's an 132-page magazine which comes with three free gifts: a genuine bow tie (not a naff plastic novelty – a proper fabric one!), and two slogan badges (and they're big 'uns too – each five centimetres in diameter), all tucked inside a card wallet.
Inside the 132-page magazine inside, you'll find all of the following:
EXCLUSIVE CAST INTERVIEWS
We speak to Matt Smith, Karen Gillan and Arthur Darvill about series five, the Christmas special, and how their characters have developed.
100 THINGS WE LOVE ABOUT WHO
A bumper-sized feature which runs down just a few of the gazillion reasons why we adore this series with a passion bordering on insanity. And if you're thinking this'll be some dreary roll call of the bleedin' obvious, think again…
MY LIFE AS A DALEK
Voice of the Daleks Nick Briggs and Dalek operator Barnaby Edwards spill the beans on what it's like bringing the series' greatest monsters to life.
RTD VS MOFFAT
Who's the best producer – Russell T Davies or Steven Moffat? That's the big question when it comes to the modern-day series. There's only way to decide, of course… fiiiiiiiiight! Oh alright, a reasoned debate on the matter…
COSTUME DESIGNS
Series five costume designer Ray Holman talks us through some of his work, with drawings for the likes of the Eleventh Doctor and a Silurian warrior, and a smattering of behind-the-scenes photos.
AUTHORS ON WHO
A trio of opinion pieces penned by a triumvirate of SF & fantasy titans. Discworld overlord Sir Terry Pratchett, Elric creator Michael Moorcock and hard SF boffin Stephen Baxter share their memories of Who, and try to put their finger on the series' ineffable magic.
KATY MANNING
As Jo Grant, who travelled alongside the Third Doctor, she was one of the series' best-loved companions; now she's earned a legion of new fans thanks to her appearance on The Sarah Jane Adventures. Katy Manning talks to us about Jon Pertwee, Matt Smith and those naughty photos of her and a Dalek…
you can see more details on the SFX website Here