Rubbertoe Romana's Sonic Screwdriver
Available to order from www.rubbertoereplicas.com
Romana, (short for Romanadvoratrelundar) was a companion to the Fourth Doctor, played by Tom Baker, in series 16, 17 & 18. A fellow Time Lord, Romana constructed her own sonic screwdriver while travelling with the Fourth Doctor. Her design was impressive enough that the Doctor attempted to swap with her, although she refused. She used it when helping repair a Skonnan battle cruiser, but accidentally left it on the bridge and was unable to escape.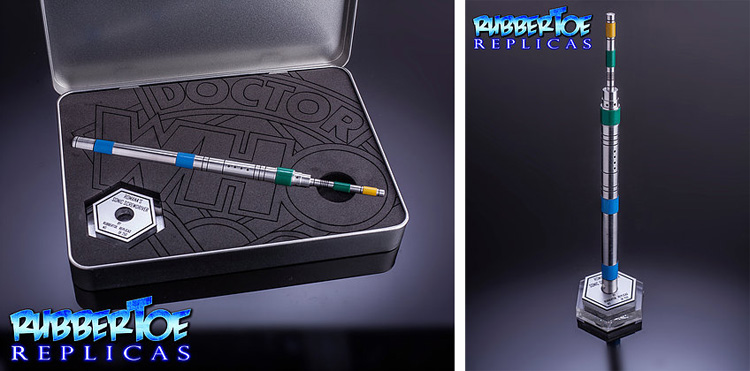 Sleeker than the Doctor's, Romana's screwdriver had similar functions. One feature it included was a silencer. Unlike the Doctor's model, however, this screwdriver did not have an emitter ring.
Rubbertoe Replicas is very pleased to be able to offer this gorgeous replica; the perfect companion to our our Fourth Doctor's Sonic Screwdriver. Reproduced as faithfully as possible, after having been meticulously researched by our team using reference taken from various sources, including the original filming prop, and the prop that featured on 1970's/80's BBC TV show Multi-Coloured Swap Shop (many thanks to Terry Poole, James Sutton and Brian Terranova for their help with this one), the Romana sonic's elegant simplicity makes it a design classic.