RubberToe Replicas Tardis Type 40 Plaque
RubberToe Replicas Tardis Type 40 Plaque
This plaque is an exact replica of the plaque that is found on the interior of the 2010 (Series 5- 7) Tardis. It reads;
TARDIS
TIME AND RELATIVE DIMENSION IN SPACE
BUILD SITE: GALLIFREY BLACKHOLE SHIPYARD
TYPE 40 BUILD DATE: 1963
AUTHORISED FOR USE BY QUALIFIED TIME LORDS ONLY
BY THE SHADOW PROCLAMATION
MISUSE OR THEFT OF ANY TARDIS
WILL RESULT IN EXTREME PENALTIES AND POSSIBLE EXILE
This really is a very cool piece of Doctor Who history. The plaque is made, art-worked and finished using exactly the same materials and techniques as the original screen used prop, using the original art department CAD drawings.
It can be displayed on the 'feet' which are provided for this very purpose, or alternatively it can be attached to any door, wall etc for that authentic look. (We don't recommend that any holes should be attempted to be made in the plaque as it may split.)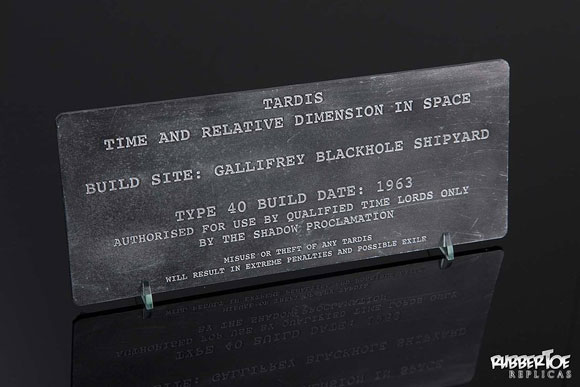 The plaque comes in it own Doctor Who themed box.
Made from perspex.
Hand art-worked and painted.
This is not a toy. Not suitable for children.
Please note all our their are handmade and as a result some slight variations in tone and colour may occur.
See the full range and order this item at www.rubbertoereplicas.com. You can also follow them on Twitter or Facebook.