Rubbertoe Replicas Shrunken Tardis Model
Available to order from www.rubbertoereplicas.com
Rubbertoe Replicas is pleased to present the Shrunken Tardis, as featured in the 2014 episode 'Flatline'. During this episode, the Tardis is being drained of energy by the elusive and sinister 2D lifeforms, the Boneless. As more and more energy is drained from the Tardis, it shrinks progressively smaller and smaller as the episode goes on.
The original filming prop of the Tardis in it's smallest recognisable form, along with the Tardis in Siege Mode, (see our store to purchase) was made right here at the Rubbertoe Workshops, and we are now pleased to be able to offer you this 100% screen accurate replica. (See our "Making of the Shrunken Tardis" page for photos of the original prop being constructed.)
Lovingly hand made and painted in our workshops here in Barry, South Wales, this mini Tardis will be a beautiful addition to any collection.
Dimensions:115mm x 115mm x 243mm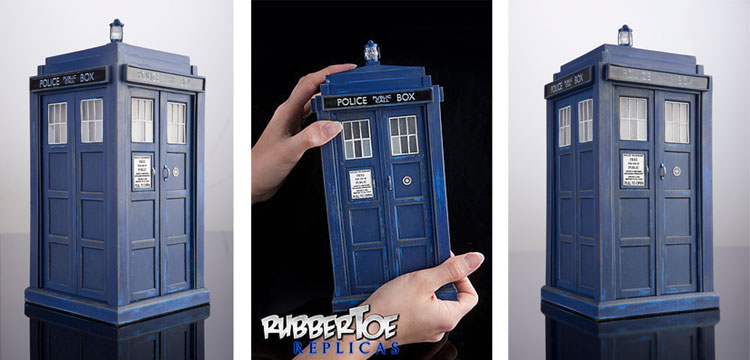 We are offering this replica with the option of lights, working pulsing lights or no lights. No sound though as we want it to remain distinctly a prop replica and not a toy.The lights will run off a 9V adaptor which is not supplied.
We recommend purchasing a Universal AC/DC Power Supply Adaptor to match you countries plug shape. Remember it's 9V so don't go putting 12V in by mistake or it might just take off!