RubberToe Replicas Captain Jack Sonic Blaster
RubberToe Replicas Captain Jack Sonic Blaster
First seen in the series one episodes "The Empty Child/The Doctor Dances", Captain Jack's Sonic Blaster is described as having many functions; sonic blaster, sonic canon and sonic disruptor. However, whether it is as useful as a banana (which, as we all know, is a very good source of potassium) we leave it to you to decide!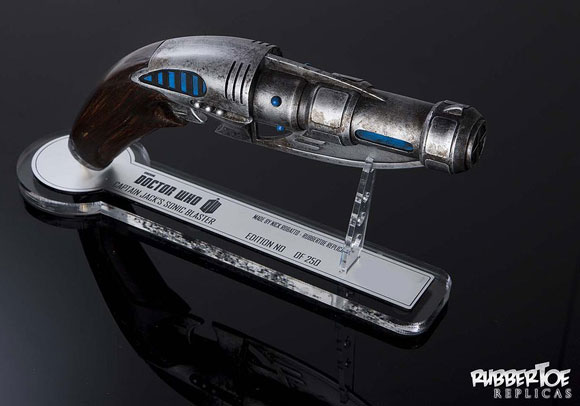 This is an exact replica of the original prop, made using the original moulds. The gun is hand-painted using the same techniques and paints as the screen used prop.
Originally designed by Matt Savage and made by Mark Cordory and Nick Robatto.
Captain Jack's Sonic Blaster comes with its own custom stand signed by Nick Robatto, and a stunning wooden display case.
LIMITED EDITION OF 250.
Made from polyurethane resin and hand-painted.
THIS IS NOT A TOY. NOT SUITABLE FOR SMALL CHILDREN.
Please note all of their items are handcrafted and as a result some slight variations in tone and colour may occur.
See the full range and order this item at www.rubbertoereplicas.com. You can also follow them on Twitter or Facebook.