RubberToe Replicas Gallifreyan Coasters / Stands
RubberToe Gallifreyan Coasters / Stands
Using the most iconic Gallifreyan symbols from the Doctor Who series, we are pleased to present this set of four brass effect coasters. You can do more than just sit your mugs on them though; these symbols are also great display pieces on their own.
The symbols used are; The Seal of Rassilon, Time Lord Seal, part of the Doctor's name and the symbol from The Master's ring. All symbols were made using the original CAD files used on Doctor Who. The techniques and materials used are the same as the original Timelord Seal used on the costuming of the Timelords in the episodes 'The End of Time'.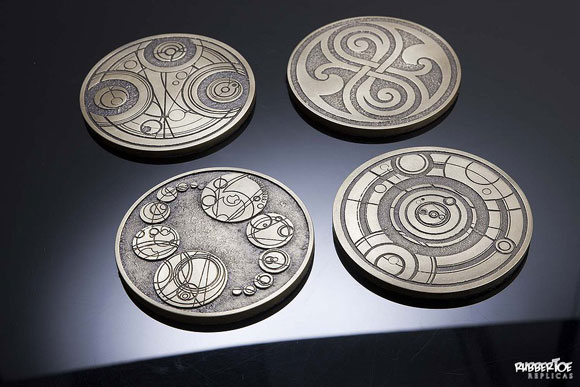 The coasters are made using brass filled resin (just like the originals), and are hand art-worked and polished to give them an antique brass 'distressed' finish.
The coasters come packed in their own Doctor Who themed Gift box. Also available to purchase from Rubbertoe Replicas are custom made stands to display your coasters in all their glory, or to use as a back-drop to your sonic screwdriver.
Coaster Display Stands
If you think (as we sometimes do!) that your coasters are just too pretty to stick a mug of tea on, these custom made display stands will allow you to display your collection in all their glory.
Comes in a pack of four stands.
Coasters not included.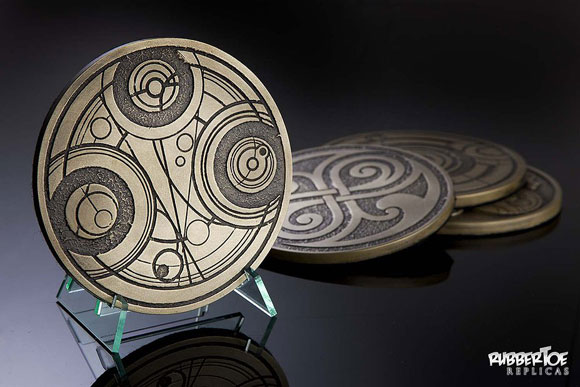 Sonic and Coaster Display Stands
Display your Sonic Screwdriver in style with these bespoke coaster and sonic stands.
Compatible with all versions of Sonic Screwdriver.
Comes in a pack of four stands.
Coasters and sonics not included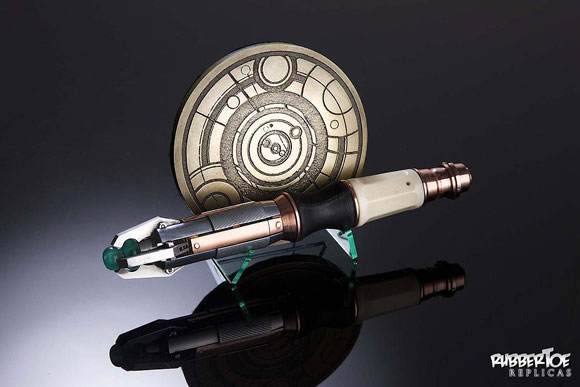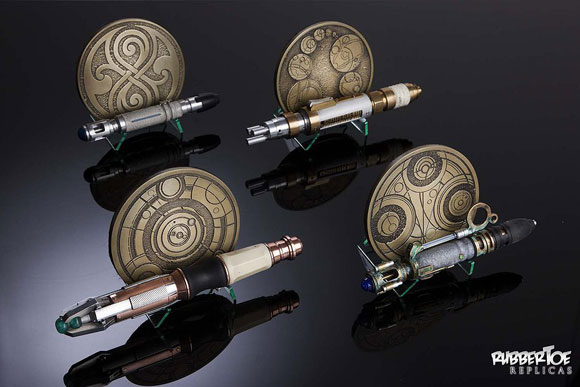 See the full range and order this item at www.rubbertoereplicas.com. You can also follow them on Twitter or Facebook.