Royal Mail Doctor Who Presentation Packs / Sheets
Royal Mail Doctor Who Presentation Packs / Sheets
You can order these and numerous other stamp products from www.shop.royalmail.com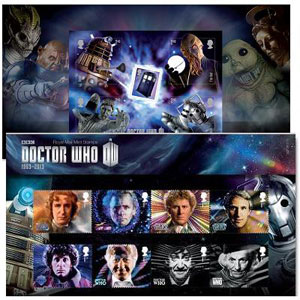 Doctor Who Presentation Pack
Which Doctor?
In this lavishly illustrated Presentation Pack, Doctor Who expert Gary Russell discusses all 11 regenerations of The Doctor as well as his most formidable foes.
It also includes all 11 Special Stamps and the Miniature Sheet.
Released on 26th March
£9.70 (incl VAT)
---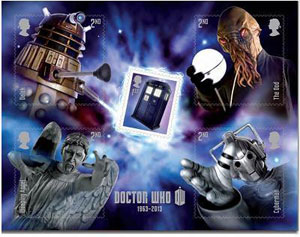 Doctor Who Miniature Sheet
Exterminate! Exterminate!
This dramatic Miniature Sheet includes five Special Stamps, with the First Class TARDIS stamp in the middle, surrounded by Second Class stamps featuring an Ood, a Cyberman, a Weeping Angel and a Dalek.
Released 26th March £2.60 (incl VAT)
---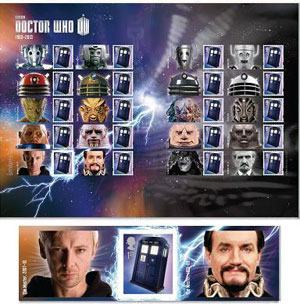 Doctor Who Generic Sheet
Enemies through the ages
This striking sheet features no less than 20 First Class Tardis stamps, together with labels depicting various incarnations of the Cybermen, Daleks, Silurians, Sontarans and The Master.
Ideal for framing.
Released on 26th March
£12.50 (incl VAT)
---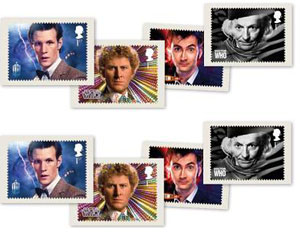 Doctor Who Stamp Cards
The big time
Fascinating portraits in their own right, the seventeen Stamps Cards feature all of the issue's Special Stamps, together with the Miniature Sheet, all reproduced from the original artwork at postcard size. A timely gift for anyone.
Released 26th March £7.65 (incl VAT)