Robert Harrop Second Doctor Monochrome Edition
Available to order while stocks last from www.robertharrop.com
The Second Doctor Limited Edition of Only 100 Figurines Worldwide.
1966 – 1969
"Renewed? Have I? That's it, I've been renewed. It's part of the TARDIS. Without it I couldn't survive."
The Second Doctor made his first appearance in 'The Tenth Planet', a 1966 story, where the First Doctor, seemingly weakened by his battle with the Cybermen, eventually collapses and 'regenerates'. The 'new' Doctor, played by Patrick Troughton, had his full debut in the next story 'The Power of the Daleks' where his companions Ben and Polly are at first unsure how to treat him.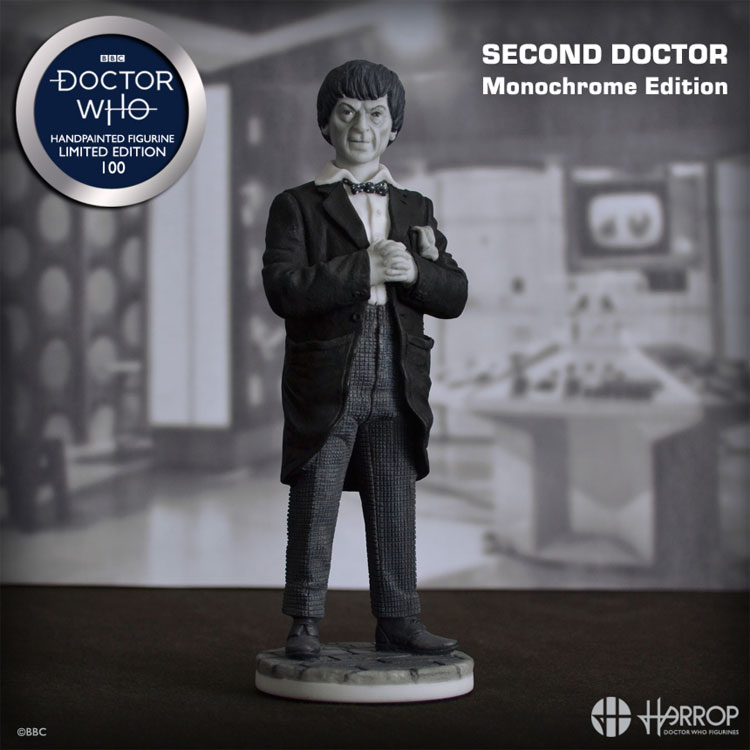 In this story, the TARDIS brings the Doctor, Polly and Ben to the Earth colony on planet Vulcan, where the Doctor witnesses the murder of an examiner who had been secretly summoned by the Deputy Governor to investigate the activities of a group of rebels. Meanwhile, a scientist has discovered a crashed space capsule containing inert Daleks, which he is now in the process of reactivating. The Doctor's warnings are ignored when the Daleks claim to be the colonists' servants. It is the Daleks' behaviour towards the Doctor which at last confirms to Ben and Polly that he really is the Doctor.
A Limited Edition Hand painted figurine / statue from the Doctor Who Collection.
Designed and Sculpted in Shropshire, England by Robert Harrop Designs.
Traditionally Hand Sculpted by Mike Rodgers.
Official BBC License. The figurine has been approved by the Doctor Who television production team at BBC Wales in Cardiff and Patrick Troughton's Estate.
Approximately 7 inches (178mm) tall.
A Limited Edition of Only 100 Figurines Worldwide.
Individually hand numbered with a unique number on the base.
Comes complete in a presentation box with information card and a Certificate of Authenticity!
The Second Doctor would appear in 119 episodes, spanning over 3 series, until his regeneration into the Third Doctor in 'The War Games' on 21st June, 1969. The Doctor's companions over this time included Polly, Ben Jackson, Jamie McCrimmon, Victoria Waterfield and Zoe Heriot.