Robert Harrop Doctor Who 2012 Snowman
Available to order from www.robertharrop.com
"I think winter is coming… Such a winter as this world has never known!"
In 1842 England, a young boy builds a snowman, but refuses to play with the other children. The snowman starts speaking to the boy, repeating his assertions that the other children are silly.
Fifty years later, the boy has grown up to be Doctor Walter Simeon, proprietor of the Great Intelligence Institute. He hires men to collect samples of snow, which he places in a large snow-filled globe in his laboratory before feeding the men to a group of animated snowmen.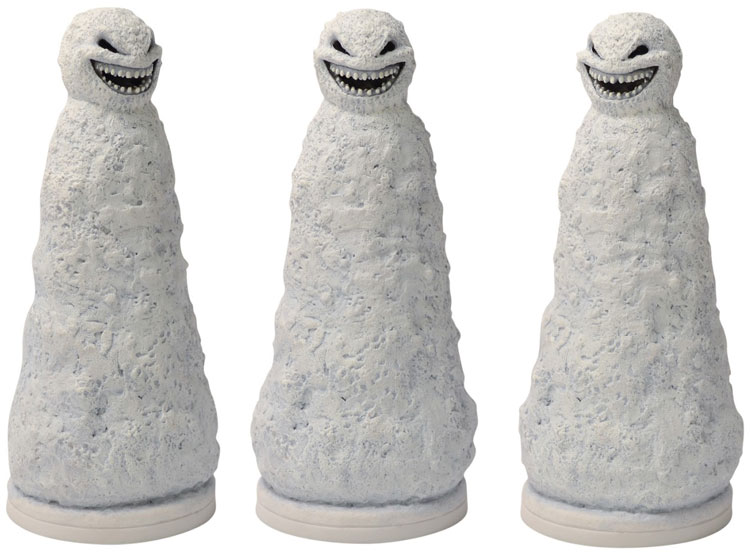 The Doctor, still despondent after losing his former companions Amy Pond and Rory Williams, has parked his TARDIS above Victorian London among the clouds. Elsewhere, barmaid Clara Oswin Oswald investigates a disturbance outside the tavern and finds the Doctor walking by.
He attempts to leave discreetly, but Clara follows him to a coach. Not wishing to become involved in matters, the Doctor instructs Strax to bring him a memory worm that will erase the last hour of Clara's memories with just a touch. Before they can do so, they are surrounded and attacked by snowmen…
A Limited Edition Handpainted figurine / statue from the Doctor Who Collection
Designed and Sculpted in Shropshire, England by Robert Harrop Designs
Traditionally Hand Sculpted by Mike Rogers.
Official BBC License. Each piece is approved by the Doctor Who television production team at BBC Wales in Cardiff. Additionally, the Doctors are approved by the actors themselves
Approximately 6.1 inches (156mm) tall
A Limited Edition of Only 150 Figurines Worldwide
Individually hand numbered with a unique number on the base
Comes complete in a presentation box with information card and a Certificate of Authenticity!
In partnership with the BBC, Harrpos have meticulously hand sculpted a range of 1:12 scale, hand cast and hand painted Doctor Who figurines, each made to strict Worldwide Limited Editions.
As a mark of provenance, each Limited Edition figurine will be numbered with a unique Edition Number and will come packaged in a presentation box with an Information Card and Certificate of Authenticity!
---