Robert Harrop Doctor Who 1975 Osiran Sutekh
Available to order from www.robertharrop.com
"Your evil is my good. I'm Sutekh the Destroyer. Where I tread, I leave nothing but dust and darkness. I find that good!"
The Doctor and Sarah Jane land with the TARDIS on Earth in the year 1911 inside an old priory owned by Egyptologist Marcus Scarman. Professor Scarman has been possessed by Sutekh, last survivor of the god-like Osirans, who is held prisoner inside a pyramid in Egypt by a signal transmitted from one on Mars.
Sutekh seeks his freedom and instructs Scarman to construct servicer robots – which look like Egyptian mummies – to build a missile with which to destroy the Martian pyramid.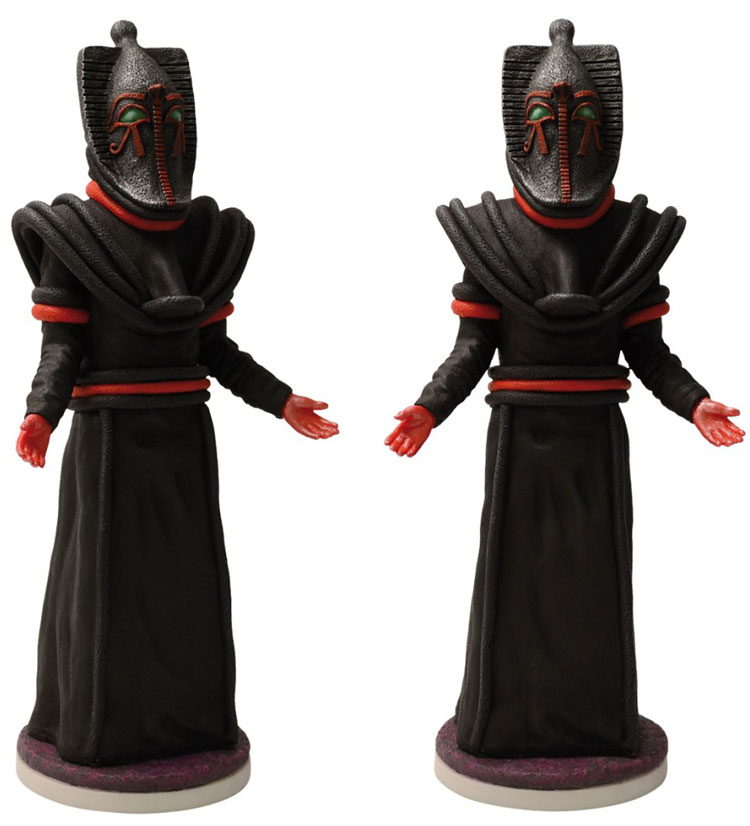 Sutekh, also known as Sutekh the Destroyer, destroyed his home planet Phaester Osiris and left a trail of destruction across half the galaxy. Variations of Sutekh's name include Set, Satan and Sadok and are abhorred in every civilised world.
Sutekh's brother Horus and the remaining seven hundred forty Osirans tracked Sutekh to Egypt and used their powers to imprison him in the Black Pyramid for 7,000 years.
A Limited Edition Handpainted figurine / statue from the Doctor Who Collection
Designed and Sculpted in Shropshire, England by Robert Harrop Designs
raditionally Hand Sculpted by Antony Halls
Official BBC License. Each piece is approved by the Doctor Who television production team at BBC Wales in Cardiff. Additionally, the Doctors are approved by the actors themselves
Approximately 8.3 inches (212mm) tall
A Limited Edition of Only 300 Figurines Worldwide
Individually hand numbered with a unique number on the base
Comes complete in a presentation box with information card and a Certificate of Authenticity!
As a mark of provenance, each Limited Edition figurine will be numbered with a unique Edition Number and will come packaged in a presentation box with an Information Card and Certificate of Authenticity!
---