Robert Harrop Doctor Who 1968 Yeti
Available to order from www.robertharrop.com
The TARDIS narrowly avoids becoming engulfed in a web-like substance in space. It then arrives in the London Underground railway system, the tunnels of which are being overrun by the web and by the Great Intelligence's robot Yeti.
The Doctor, along with companions Victoria and Jamie, learn that this crisis was precipitated when Professor Travers, whom they first met in the Himalayas some forty years earlier, accidentally caused one of the Yeti to be reactivated, opening the way for the Intelligence to make another invasion attempt.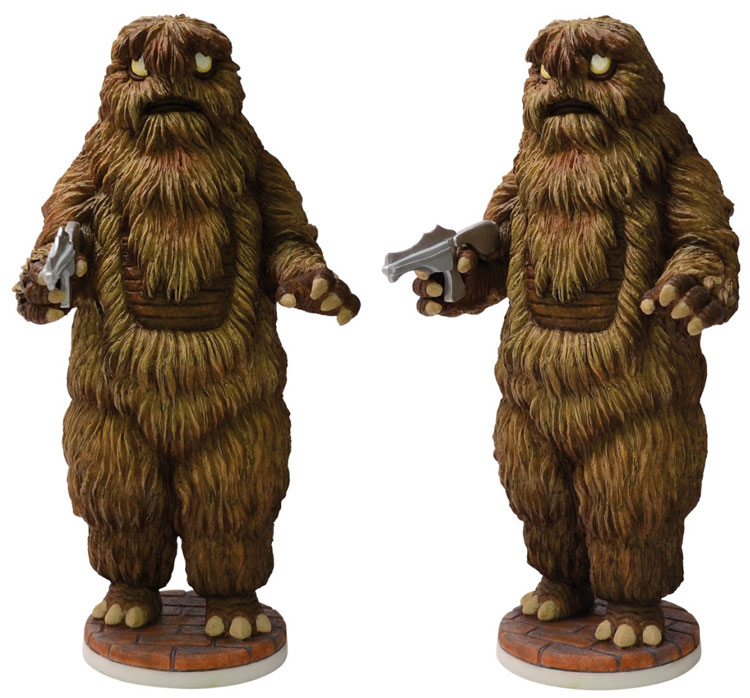 The Great Intelligence has no physical form but it is capable of communicating, both by itself and through possession of living creatures. The TARDIS is trapped in space by a web-like material of which The Great Intelligence can create anywhere and has properties which interfere with the TARDIS systems.
The Great Intelligence and the Yeti make their first appearance in 'The Abominable Snowmen'during the time of the Second Doctor, portrayed by Patrick Troughton.
A Limited Edition Handpainted figurine / statue from the Doctor Who Collection
Designed and Sculpted in Shropshire, England by Robert Harrop Designs
Traditionally Hand Sculpted by Mike Rogers.
Official BBC License. Each piece is approved by the Doctor Who television production team at BBC Wales in Cardiff. Additionally, the Doctors are approved by the actors themselves
Approximately 8.1 inches (205mm) tall
A Limited Edition of Only 300 Figurines Worldwide
Individually hand numbered with a unique number on the base
Comes complete in a presentation box with information card and a Certificate of Authenticity!
In partnership with the BBC, Harrpos have meticulously hand sculpted a range of 1:12 scale, hand cast and hand painted Doctor Who figurines, each made to strict Worldwide Limited Editions.
As a mark of provenance, each Limited Edition figurine will be numbered with a unique Edition Number and will come packaged in a presentation box with an Information Card and Certificate of Authenticity!
---