Reeltime Pictures Return to Devils End
Available to order from www.galaxy4.co.uk
A mythmakers presentation – Return to Devils End
Regarded by many DOCTOR WHO fans as the best all round Jon Pertwee story, THE DAEMONS featured the village of Aldbourne as its central location.
In this special production, presenter NICHOLAS BRIGGS has brought leading cast members & director Christopher Barry to Aldbourne where they recount memories of shooting DOCTOR WHO during one of its most popular periods.
Original, updated and spin off covers…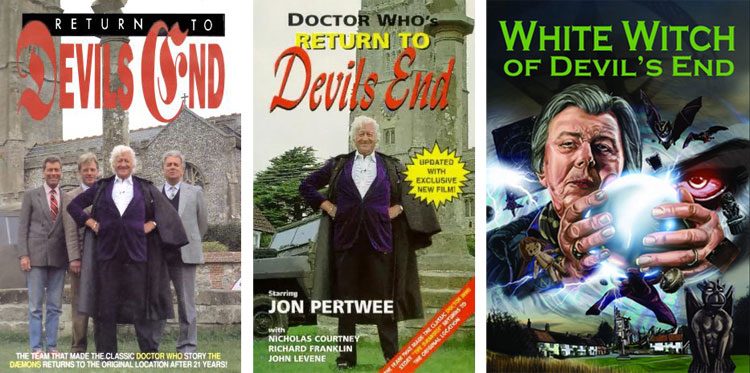 Together with unseen photographs and amateur film of the original shoot, this video will make an invaluable addition to any fan's collection and provides an in-depth look at the making of DOCTOR WHO in the 1970s.
>
"RETURN TO DEVILS END has been in various stages of planning for over eight years, getting the actors together in one place at the same time has proved to be an organisational feat worthy of UNIT itself and has only happened because of the dedication and hard work of the stars and production staff to whom I am most grateful.
We would all like to dedicate this video to the memory of Roger Delgado and Peter Grimwade who were part of an era in Doctor Who that I grew up with and adored. If, in this production, we have managed to recapture any of the magic from that time I am content."
This is one of only 500 limited edition copies of Return to Devils End signed by the cast.