Reeltime Pictures Mindgame / Mindgame Trilogy
Available to order from www.galaxy4.co.uk or www.timetraveltv.com
Reeltime Pictures Mindgame
ONE HUMAN, ONE DRACONIAN, ONE SONTARAN… TRAPPED IN A PRISON CELL…
Who kidnapped them and for what sinister reason? And who will survive when they are forced to fight for their lives.
In this tense drama, Sophie Aldred (Ace in DOCTOR stars alongside Miles Richardson (Downtime) and Toby Aspin (Shakedown) as two of DOCTOR WHO'S favourite monsters finally meet.
The Sontarans appeared In four DOCTOR WHO stories between 1973 and 1985 plus the 1994 spin-off SHAKEDOWN . The Draconians appeared in the 1973 DOCTOR WHO story FRONTIER IN SPACE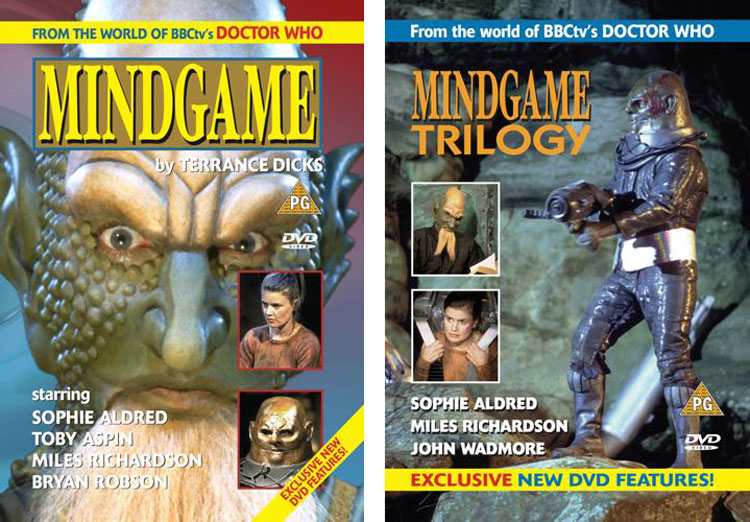 Mindgame Trilogy
BATTLEFIELD
by Terrance Dicks
Field-Major Sarg is in trouble. Trapped, wounded and alone on a battle-scarred planet, he is forced to accept he may die. But at least it will be a glorious death – or so he hopes…
PRISONER 451
by Miles Richardson
To be or not to be, that is the question! On trial for subversion, he faces the ultimate penalty. If only she knew the trouble she'd caused…
SCOUT SHIP
by Roger Stevens
A dying ship drifting in space. A pilot faced with certain death. Time may be relative… but it still runs out!