Radio Times 3D lenticular Poster – Review
Radio Times lenticular 3D posters
We recently received courtesy of Radio Times one of the 3D effect posters many of you will have already ordered – and it looks stunning. The depth of the 3d effect is simply superb. The 16″x12″ posters are very sturdy and would grace any fans wall. There are two available – inside the Tardis with Matt Smith and Karen Gillan and another featuring the Daleks.
No photographs can do these justice so please dont judge them by any images you see but at £15 for the two (or £8.99 for one) including p/p they are highly recommended.
You can order via the Radio Times website Here or use the order form below.
From The Radio Times…
With Christmas fast approaching, here's your chance to snap up these limited edition Doctor Who lenticular posters that create a 3D* effect. The Tardis poster with Matt Smith (top right) and Dalek poster (bottom right) really do bring Doctor Who to life and are the perfect stocking filler for fans of any age! These collectable posters are only available through Radio Times, so order today.
Buy two posters or more for £7.50 each, or one for £8.99. To order, call 0844 543 9812 or fill in the coupon (click image for large print out version), and send it along with a cheque, made payable to Radio Times, to: Radio Times Doctor Who 3D poster, PO Box 4445, Colchester CO2 8GD. Offer closes on 12 November 2010.
Click the image below for a larger print out form…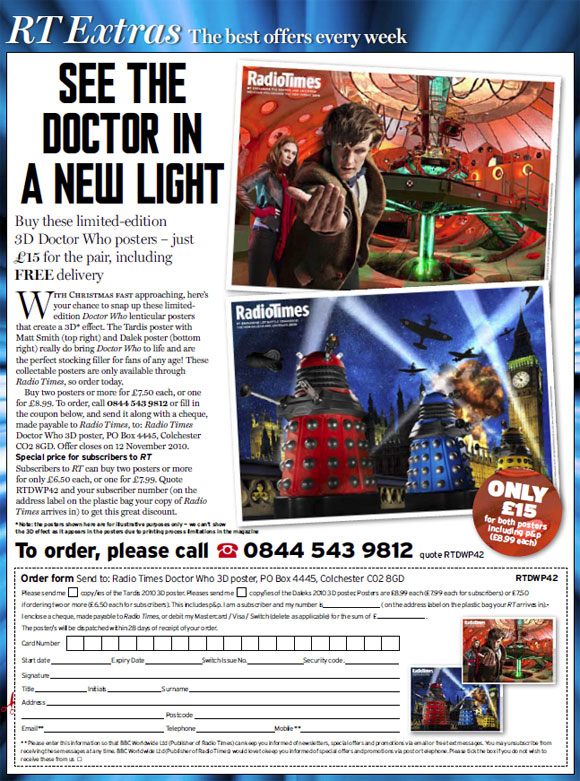 *Note: the posters shown here are for illustrative purposes only — we can't show the 3D effect as it appears in the posters due to printing process limitations in the magazine