Rabbit Tanaka Tardis Console Motion Lamp – A Closer Look
With Thanks to Pangea / Rabbit Tanaka
Ever since The Tardis Console lamp first appeared on the Doctor Who Fan Show people have been asking "where can I buy one". It wasn't immediately apparent if this was a future commercial product or a unique item.
Soon after its appearance however a dedicated Rabbit Tanaka Facebook Page appeared giving us our first images and details on the product.
The Tardis Console lamp then went up for pre-order on Amazon and stocks were made available by F.Y.E at SDCC 2017. Its now widely available in the USA.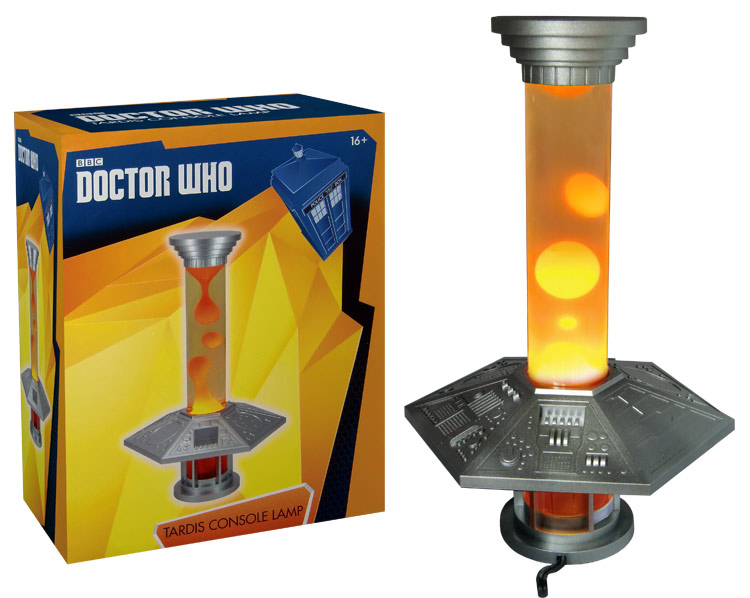 The first thing to say when buying the lamp is to give the instructions a read. This is a petroleum product so some care is needed.
After some very simple assembly the lamp is ready to switch on and it is at this point you do need a little patience for it to heat up which can take an hour or two. During this time some very weird and wonderful shapes may emerge.
Once it gets going though its everything you would expect and naturally looks at its best with other lights out. Its recommended not to leave the lamp running for more than 8-10 hours at a time. An in-line on/off switch is provided.
The first 15 seconds is a timelapse showing the console "starting Up".
The lamp itself is around 18″ tall and is perhaps bigger than you might expect. The 6 sided console is a one piece plastic construction and coloured silver with various moulded screens and switches and its all that it needs to be for this type of product.
As well as the "moving" part of the lamp there is a constant orange glow below the console as well.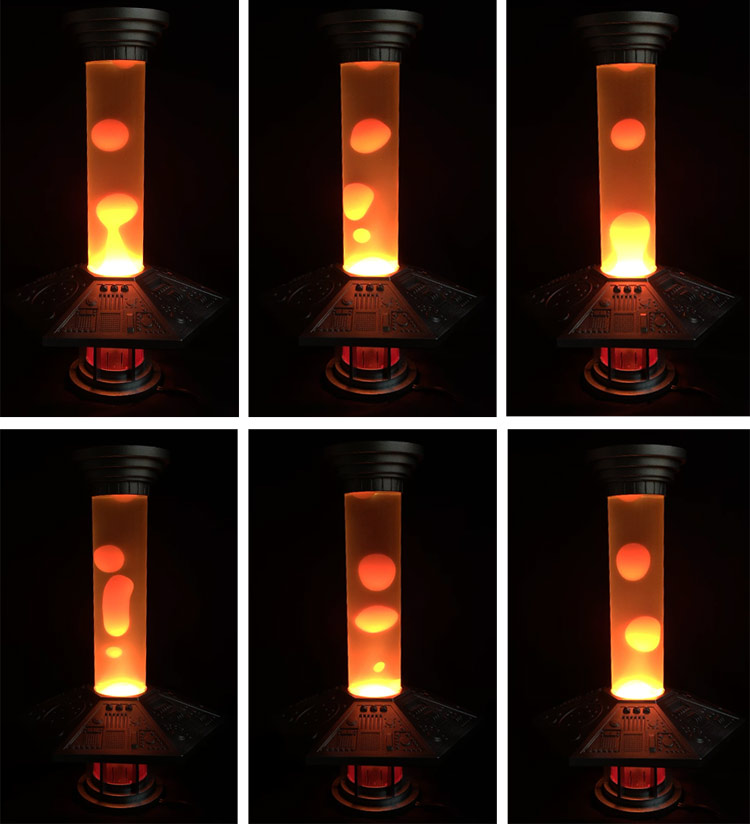 Many have asked about UK availability but realistically with the Voltage difference, UK plug issues and CE certificates it doesn't seem viable at this time. If you do import one yourself then suitable UK voltage adaptors are easily available but be aware of possible duties and costs on the lamp.
Its nice to see a piece of merchandise that's a little bit different and it would certainty be the talking point of any room.
You can find the lamp at www.thinkgeek.com and www.fye.com stores, and online with numerous e-tailers, including www.ThinkGeek.com, www.amazon.com #ad , www.fye.com, www.MichaelRodents.com, www.WhoNA.com, and www.WibbilyWobblyTimeyWimey.com.
Some of these retailers will ship to the UK
---
Other Rabbit Tanaka Doctor Who desk lamps are available from www.amazon.com #ad