Big Finish Bernice Summerfield Dot to dot Colouring Book
Available to order from www.bigfinish.com
Dot-to-dot with your favourite archaeologist!
Professor Bernice Summerfield falls into the land of dot-to-dot this October as Big Finish Productions releases its first colouring-in and dot-to-dot story book.
Have you ever wanted to choose the colour of Benny's boots or Braxiatel's trousers? Well now you can! Big Finish is proud to present the wonderful, Benny in Wonderland.
Have we gone a bit mad? I'm afraid so. But let me tell you something… the best people usually are!
This marvellous book, based on a world similar to Lewis Carroll's Alice in Wonderland, is bursting with over 50 pages of patterns and pictures to colour-in plus fabulous dot-to-dot puzzles – all alongside a brand-new Bernice Summerfield adventure, written in verse of course. Follow Benny as she chases a white rabbit (or purple rabbit – you're the one with the colouring pens!) into a strange land of talking caterpillars, grinning cats and murderous queens.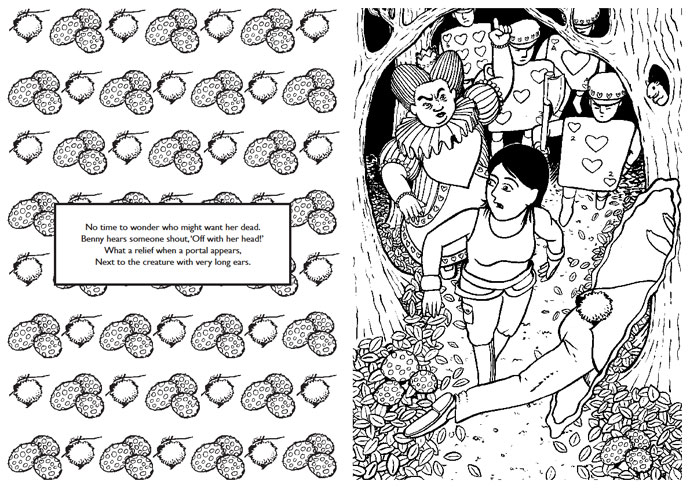 Editor of this brave and slightly bonkers venture, Xanna Eve Chown, tells us about the origins of this new black and white Benny release: "The idea came at the end of a long planning session about Big Finish books with Jason Haigh-Ellery, David Richardson and Sue Cowley. It made us all laugh so much that I ran it past Bernice Summerfield creator, Paul Cornell, the next day. He thought it sounded like fun so we decided to go for it!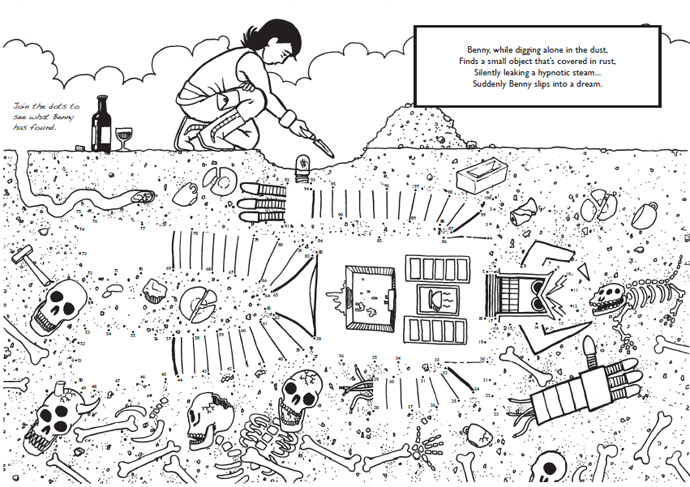 "The book is loosely based on the adventures of Alice in Wonderland. It's such a well-known story and the fantasy elements work well with the strange dreamlike idea of the book. There's a letter from 'Benny' on the back cover where you'll see this is a story in a story in a story… based on another story…
"I think Benny has always had that sense of fun and craziness – and that helps when you are pitching a dot-to-dot book! People are used to picturing Benny in their heads as they listen to her on audio. Now they can colour her in!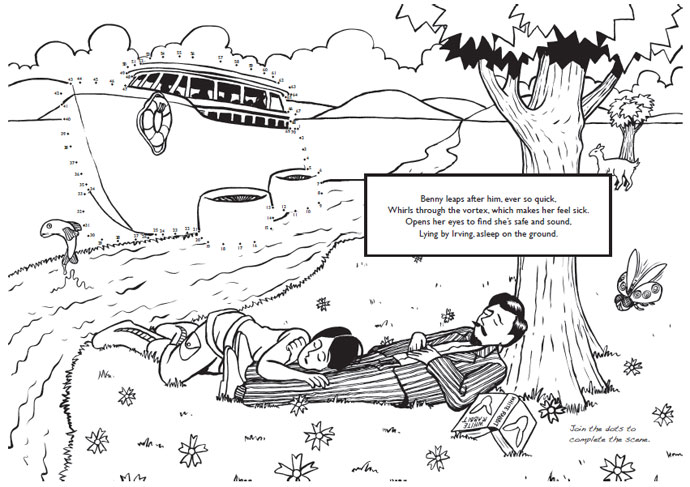 "Fraser's pictures are just so lovely, which helps of course. There's a fantastic one where Benny is drinking a toxic cocktail in the Mad Hatter's bar… amazing."
Benny creator, Paul Cornell, told us: "I commend this edition unto you. I've tried the dot-to-dot, and let's just say I wouldn't want to catch that from a Cornish pastie!"
And Bernice Summerfield actor herself, Lisa Bowerman, is delighted with the result: "Well colour me pink… (actually – don't!)… Benny's made it to a colouring book!"
This book is suitable for everyone – from children to adults and everywhere in between. You'd be mad to miss it!
Benny in Wonderland will be on sale in October 2019, as a paperback, priced at £10.99 each.