Philip Hinchcliffe The DNA of Doctor Who Kickstarter
To be notified of the launch visit www.kickstarter.com
The Kickstarter goes live here on Friday 17th November and concludes on Thursday 30th November.
Kickstarter launch for a new series of beautiful large-format books on the creative team behind BBC Television's DOCTOR WHO!
Roundel Publishing is delighted to launch a new range of lavish books celebrating the creative forces behind BBC TV's Doctor Who starting with THE DNA OF DOCTOR WHO: THE PHILIP HINCHCLIFFE YEARS!
THE DNA OF DOCTOR WHO takes a look at the creatives involved in making Doctor Who through the lens of newly-commissioned essays examining key themes, critical responses and reflections on the era in question. As the range progresses, this will build up in the ultimate library of reflections, criticism, evaluation and celebration of Doctor Who!
Opening with a book on arguably the most critically acclaimed era, THE DNA OF DOCTOR WHO: THE PHILIP HINCHCLIFFE YEARS examines the tenure of Philip Hinchcliffe, Producer of Doctor Who during Tom Baker's reign, 1974-1977.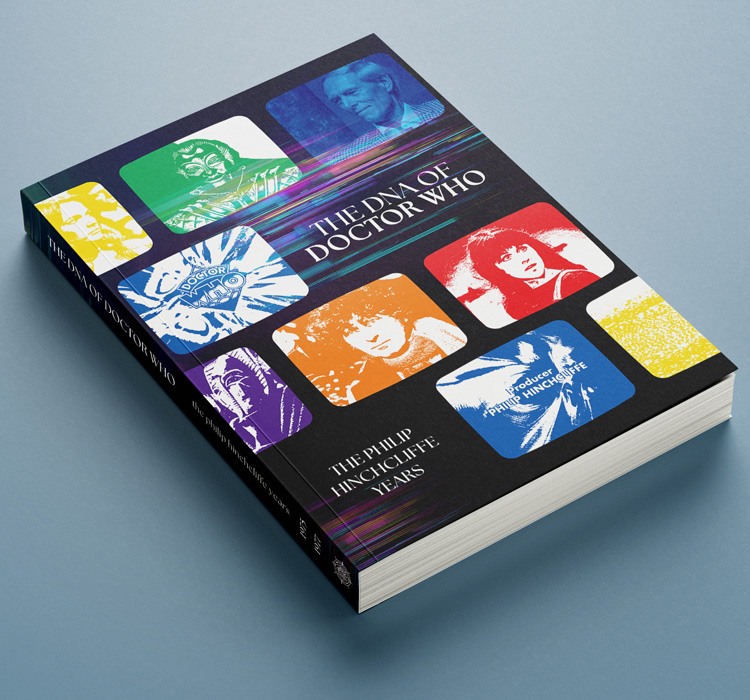 This launch book is available through Kickstarter in softback, hardback or deluxe hardback options including the option to receive signed copies, exclusive art prints and even the chance to get a personal message from Philip himself!

"It'll be a different kind of book that's been written, I think, about Doctor Who" – Philip Hinchcliffe
The 188-page book includes essays ranging from disability representation and villainy in Doctor Who, where Doctor Who stood as a VT/film series in 70s TV through to the use of imagination to fire up children in Doctor Who and many more diverse subjects framed through the Hinchcliffe vision of Doctor Who, and the 16 stories making up Philip's tenure.
To differentiate THE DNA OF DOCTOR WHO from other discourses that have examined the legacy of the series is that Philip Hinchcliffe will also be bringing his own observations on the areas covered within the essays alongside archive recollections and new interviews on his era.
The creative team includes:
Gary Russell (Editor) – a writer, producer and director, Gary will be well-known to many Doctor Who fans having been involved in many different aspects of the series.
Will Brooks (Designer) – resident 'photo' cover artist for Titan Comics between 2015 and 2019, Will produced over 160 covers for their Torchwood, Doctor Who and Sherlock ranges.
Philip Hinchcliffe (Writer) has been closely involved at all stages of this project, and we have made sure Philip's voice is present alongside those of our contributors. This has been made possible through 25 hours of new interviews with Philip, undertaken by Graeme Burk together with almost 30 hours of archive journal interviews recorded in the 1990s, which Philip has made available from his private archives.
In addition our incredible list of contributors and essayists includes LOUISE JAMESON, GRAEME BURK, HANNAH COOPER, MATT DALE, HAYDEN GRIBBLE, SIMON GUERRIER, TOBY HADOKE, DAVID J HOWE, ROBIN INCE, ALEX KINGDOM, EMMA KO, TREY KORTE, AARON LOWE, SOPHIA MORPHEW, KIM PFEIFER-ADAMS, MICK SCHUBERT, KENNY SMITH, MATTHEW SWEET, MATTHEW TOFFOLO and IAN WINTERTON.
Kickstarter Perks, available to merchandise package backers, include:
Bonus DVDs containing commentaries for classic Doctor Who stories featuring Philip alongside a roster of on-screen and behind-the-scenes talent.
A newly commissioned video interview with Philip.
Archive convention footage featuring members of the Terror of the Zygons team.
Exclusive art prints in a collectors folio with the option to get them signed by creatives including TOM BAKER!
Extremely limited dustjacketed hardbacks with key art from Philips stories – these one of a kind pieces also come with a personal message recorded by Philip.
The Kickstarter goes live here on Friday 17th November and concludes on Thursday 30th November.
Roundel Publishing is a division of Room 5064 Enterprises, it's sister publishing label CUTAWAY COMICS has successfully Kickstarted comics from the world of Doctor Who including Eric Saward's LYTTON ("The SF noir of Blade Runner had it been realised in London", We Are Cult), OMEGA ("The grand mythic tone gives [Cutaway] a very classy – and distinctive – new string to their bow", Set the Tape), PARADISE TOWERS: PARADISE FOUND ("A triumph of colour over the forces of oppression", The Tides of Time) and most recent titles SUTEKH, OMEGA: ELTRALLA and FAUSTINE, the first phase of their crossover GODS AND MONSTERS event.
More information can be found on the Cutaway Comics website at www.cutawaycomics.co.uk or by following Cutaway Comics on X @cutawayuniverse
Mock-ups: