Official Figurine Collection Magazine (Test Area) 03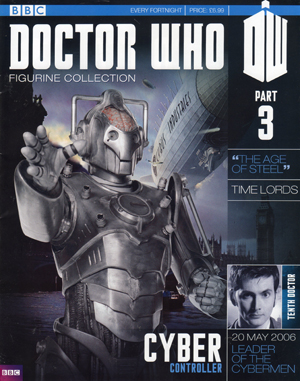 The Official Figurine Collection Magazine (Test Area) 03
The official figurine collector's magazine that explains how the character evolved. Plus get the inside story behind classic moments, explore 50 years of the series' history, learn the secrets of the Doctor Who universe and discover the answers to some impossible questions.
This magazine is currently only available in test areas before its national launch later in 2013. Subscriptions will also only be available in these areas at present.
Every issue of the magazine gives you essential information about the featured character and reveals the inside story of Doctor Who.
Your figurine…
Get up close and personal with your figurine, discover exactly why they look the way they do, uncover hidden details and learn how they have evolved over the years.
The moment…
Every figurine recreates a specific moment from a classic story. Go behind the scenes to get the inside story of how the production team brought it to your TV screen.
50 years of Doctor Who…
Get the whole story with this incredible timeline that takes you from Doctor Who's beginnings in 1963 to the latest episodes.
The Doctor Who universe…
An in-depth profile of an essential element of the Doctor Who universe including Time Lords, UNIT, Daleks, and much more.
PLUS Mysteries answered and the people who made Doctor Who happen
In This Issue…
Your Figurine – Cyber Controller
Why the Cyber Controller is shown as he meets with disaster, and how The Age of Steel restored a classic enemy to true greatness.
PLUS How the Doctor Who team re-imagined the dread Controller.
Moment in time – Keeping Control
How the insight of Russell T Davies gave a classic foe a new, up-to-date relevance – and a cool upgrade.
50 Years of Doctor Who -1964
The key developments of this thrilling year – and a real Dalek invasion.
Doctor Who Universe – The Time Lords
Exploring the dark side of this incredibly powerful race.
The big Ask – Your questions answered
Why do Cybermen chase people so slowly? And can John Lumic blink?
The people who… Douglas Adams
How a great wit changed the style of the show in the late 1970s.