Official Doctor Who Book Signing – Reminder
Official Doctor Who Book Signing
5th March 2011
11am-1pm
Doctor Who Experience
Olympia 2, Hammersmith Road, London, W14 8UX
Don't miss this fantastic chance to meet the masterminds behind the exciting new Doctor Who adventure series from Doctor Who BBC Children's books. Justin Richards, Oli Smith and other Doctor Who experts will be ready to be grilled on all WHO matters and you might even get a glimpse of the Experience itself.
Find out more about Penguin Books at www.doctorwhochildrensbooks.co.uk.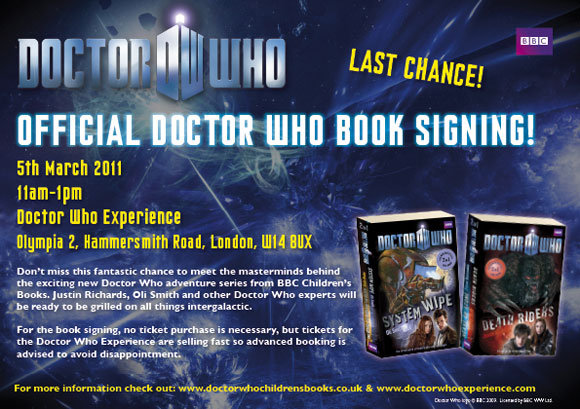 Just a sample of the many books available…
Doctor Who: Heart of Stone / Death Riders
Action-packed new chapter books for younger Doctor Who fans, starring the Eleventh Doctor with his companions Amy Pond and Rory Williams. Double-fronted books each contain two fast-paced, fun-filled adventures!
Monsters made from moon rock are attacking an Earth farm in Heart of Stone. Everything they touch turns to stone – even people. Can the Doctor, Amy and Rory find out what the creatures want before it's too late?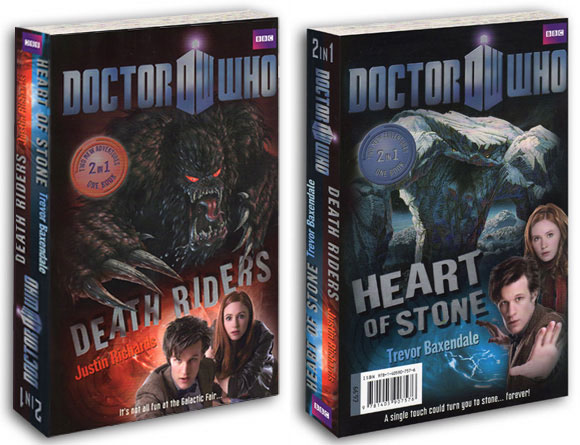 In Death Riders the Galactic Fair has arrived on the mining planet of Stanalan and the Death Ride roller coaster is really drawing in the crowds. But there's something sinister going on behind all the fun of the fair. Join the Doctor, Amy and Rory as they investigate…