Doctor Who Storybook 2010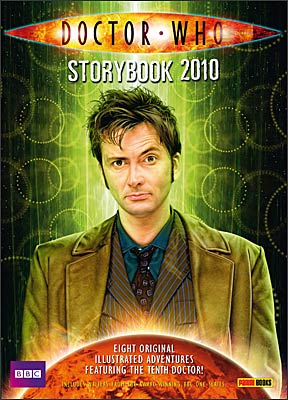 Doctor Who Storybook 2010
The Time Lord faces up to a shapeless horror in a Victorian orphanage, meets sentient doors from another dimension, re-encounters the gaseous Gelth on a reality TV show.
He journeys to the Australian outback to investigate mysterious objects falling from the sky, travels to the end of the rainbow – quite literally! – and battles Vikings. A lot of Vikings…
Featuring the Tenth Doctor as played by David Tennant in the smash-hit BBC One drama series!
Plus a final Letter from the Doctor – as told to Russell T Davies!
Containing eight action-packed stories:
• Total Eclipse of The Heart by Oli Smith
• The End of the Rainbow by Jacqueline Rayner
• Scared Stiff by Mark Gatiss
• Space Vikings! by Jonathan Morris
• Bennelong Point by Keith Temple
• The Shape on the Chair by Matt Jones
• Knock Knock! by Paul Magrs
• The Haldenmor Fugue by James Moran
Due Aug 2009