Doctor Who Monster Series Dalek Coin
New Zealand Mint Doctor Who Monsters Series
Available to order from www.nzmint.com
The Doctor Who Monsters series is a limited mintage of 5000 coins only per release, and is crafted from ½ Ounce of fine silver (0.999). Each coin is sold with an individual presentation case, along with an individually numbered certificate of authenticity.
Like recent releases, the coins will be issued under the licensing authority of Niue.
As a special value add for customers who purchase from our website, I have reserved a block of the low certificate numbers in the series, numbers 50-999. These will be exclusively for our retail customers.
In addition, everyone who purchases the Dalek coin will have the opportunity to receive identically numbered certificates for each further release in the series, ie If you get Dalek coin number 179, then you can also have number 179 of the next coin, and the next….etc. WE hope that this adds value for collectors and fans.
---
Doctor Who is currently the longest running and most successful science fiction television series of all time.
The programme depicts the adventures of a time travelling, humanoid alien known as the Doctor, who first encountered Daleks on the radiation-soaked planet of Skaro, waging war with the peaceful Thals.
This coin is the first to be released in the new Doctor Who Monsters coin series.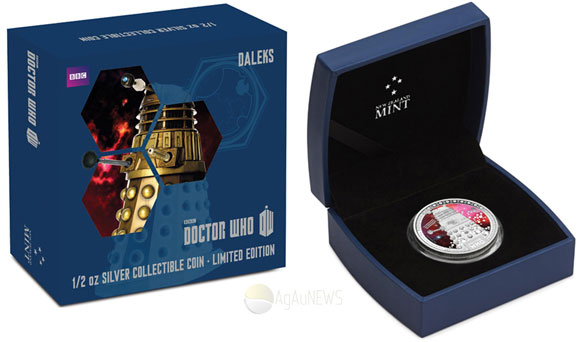 Key Features:
• An official BBC licensed product
• The first in a five coin series featuring classic Doctor Who Monsters
• A half ounce silver coin featuring a Dalek
• A limited global mintage of 5000
Obverse Design
This features the Ian Rank-Broadley effigy of Her Majesty Queen Elizabeth II.
Packaging
This Doctor Who Monsters – Daleks 1/2 oz Silver Coin Series is presented in a classic and sturdy Doctor Who blue coin
case.
The inner case sits inside a printed outer box, featuring an image of a Dalek. A Certificate of Authenticity is displayed inside the case.
Reverse Design
This coin face depicts a relief engraved Dalek, set against a dramatic colour background. This is surrounded by a finely engraved border design.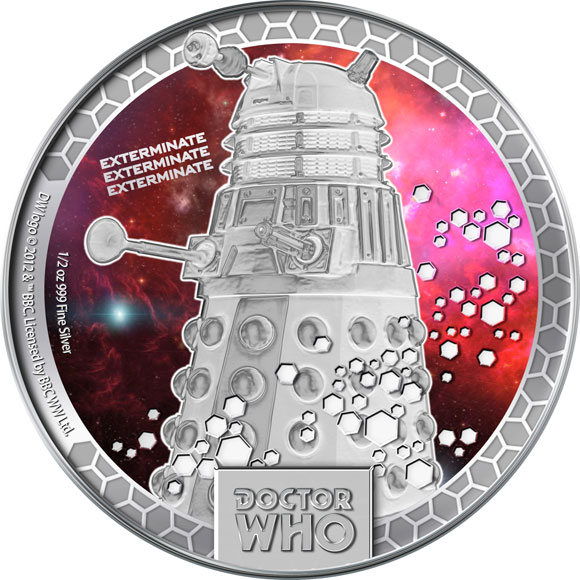 Available to order from www.nzmint.com