New Doctor Who Character Building Sets
Having seen this range first hand we can confidently say that its one of the best things Character have done in the Doctor Who line. Initially there will be some small construction and figure sets with (considerably) larger sets due later in the year. "older" fans have not been forgotten either with another 11 Doctors set. You'll also be able to mix and match the Doctor Who range with the H.M. Armed Forces construction toys creating even more fun.
The popular collectors lists pages will be updated shortly to include these sets and figures.
With the announcement of the very well received Character Building series the opportunities are now endless to construct characters and sets from Doctor Who and its spin off's. We have put a few possibilities in a poll below so which 4 would would like to see?
Figures seen so far include…
Series one figures…
*The Eleventh Doctor (Red bow tie)
*The Eleventh Doctor (Jacket-less Blue)
*Amy Pond
*Weeping Angel (Screaming)
*Weeping Angel (neutral)
*Cyberman
*Dalek Drone
*Dalek Strategist
*Silurian
*Smiler (angry face)
Series 2 Figures…
*Amy Pond Police uniform
*Roman Rory
*Vampire Girl
*Dalek Eternal
*Dalek Supreme
*The Eleventh Doctor (Red bow tie)
*Cyberleader
Other figures shown…
*Dalek Scientist
*Dalek Part Black
*Riversong
*Rory Williams
*Doctors 1-11 ( in a set )
*The Eleventh Doctor (Blue bow tie)
Figure sets include…
*Eleven Doctors Box Set
*Weeping angels Army builder set
*Dalek Army builders set
*Cyberman Army builders set
Construction Sets include…

*The Tardis mini set (100pcs) includes Amy and The Doctor
*Time of Angels mini set (100pcs) includes one weeping angel
*Dalek Progenitor Room Mini Playset (100pcs) includes Supreme Dalek
*Tardis console room playset (250pcs) includes Amy, The Doctor, Rory and Riversong
*Cyberman conversion chamber set (150pcs) includes Cyberman and Cyberleader
*Dalek Factory set (200pcs) includes parts to make 5 Daleks
From the BBC Press Office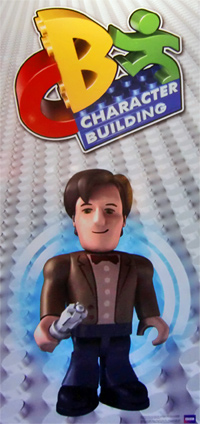 BBC Worldwide is delighted to announce a major new deal with Character Options' new Construction division which will see Doctor Who enter the construction toy market for the first time.
The Character Building range will include 3D micro-figures, brought to life with sculpted facial features whilst play sets will be uniquely tailored to Doctor Who.
Fans will be able to build their own Doctor Who world with all their favourite characters including the Doctor and Amy Pond with their famous foes the Daleks, Cybermen and Weeping Angels.
Distinctive to the Character Building range will be the use of texture on some of the building blocks, whether it be the sleek and smooth edges of a spaceship, or the rough edges of a rock face. This will be pivotal in recreating each environment, providing a natural look, but still allowing easy construction play.
The entire range will be displayed at the Character Options stand at the London Toy Fair with the first products set for release in Spring 2011.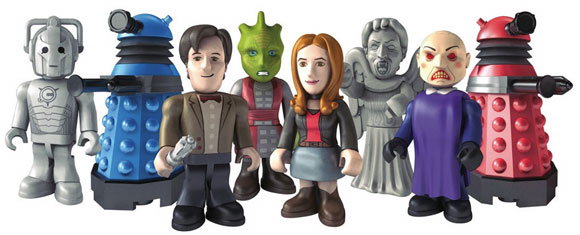 Matt Smith and Karen Gillan have already seen their new figures and commented:

Matt Smith: "It was very surreal and funny coming face to face with a miniature version of myself as the Doctor but I'm glad that the Doctor's trusty Sonic Screwdriver is in his hand, ready to fend off attacks from monsters!"
Karen Gillan: "I absolutely love these miniature toys of The Doctor and Amy Pond despite the strange sensation of seeing myself immortalised in plastic and miniature and buildable…and dissectible. I'm loving Pond's flaming ginger mane and it's funny to think that The Doctor and Amy are small enough to travel around in someone's pocket!"
Richard Hollis, Head of UK Licensing at BBC Worldwide said: "We are delighted to build on our existing relationship with Character Options. We've worked successfully with them in the past and the quality and imagination they put into their toys is outstanding. This new venture offers the perfect play pattern for Doctor Who fans and opens up a fascinating and innovative genre. We believe that this is a fantastic new project and we're really excited to see how popular these toys will become."
Jon Diver, Character Group's Joint Managing Director, commented: "This new project represents a major investment for us and we are delighted to be increasing our Doctor Who portfolio. In doing so we will also be supplying a new option to the child constructor who will now have the choice of a construction toy that has all the excitement and appeal that the licences brings with them."