Monsters on Earth CD Box Set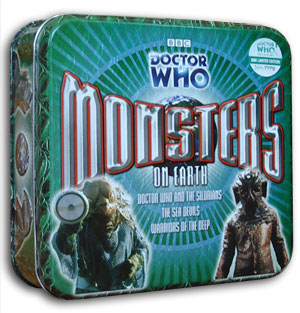 Monsters on Earth CD Box Set
This stunningly designed, limited edition collector's tin contains three TV soundtrack adventures featuring the Doctor's encounters with creatures from Earth's distant past.
In "Doctor Who and the Silurians", a race of intelligent reptiles wakes from hibernation in the caves beneath Derbyshire, and sets about reclaiming the planet as their own.
"The Sea Devils" finds the Silurians' sub-mariner cousins responding to a call from the Master, whilst in "Warriors of the Deep", the Silurians and Sea Devils combine forces to attack a Deep Sea Base in the year 2084.
Jon Pertwee and Peter Davison star as the Doctor, and exclusive linking narration is provided by Caroline John (Liz Shaw), Katy Manning (Jo Grant), and Janet Fielding (Tegan Jovanka) in these 17 episodes of adventure. The set also includes bonus interviews with each of the linking narrators, who remember their time making "Doctor Who".