Monster Invasion Magazine Issue 52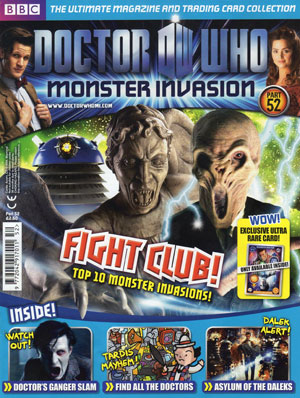 Monster Invasion Magazine Issue 52
Start collecting the awesome NEW Doctor Who Monster Invasion and build up a mega-monster magazine and cool trading card collection.
You can subscribe Here on the official site where you will find all you need to know about Monster Invasion magazine.
In This issue…
*Top 10 Monster Invasions
*The Compression eliminator
*The Doctor's Ganger v Krynoids
*Asylum of The Daleks
*Where's The Doctor – Tardis trouble
*Z is for Zzzzzzzz and more …
This is the last issue of this magazine and it comes with an ultra rare flip card.