Monster Invasion Magazine Issue 51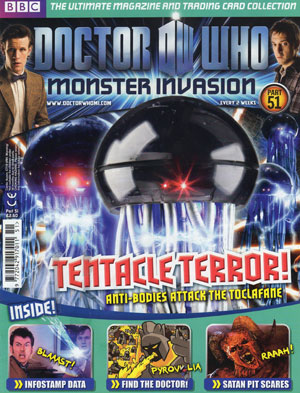 Monster Invasion Magazine Issue 51
Start collecting the awesome NEW Doctor Who Monster Invasion and build up a mega-monster magazine and cool trading card collection.
You can subscribe Here on the official site where you will find all you need to know about Monster Invasion magazine.
In This issue…
*Top 10 Wicked Woman
*Infostamp
*Antibodies V Toclafane
*The Satan Pit
*Where's The Doctor – Pyrovillia
*Z is for Zygon and more …
There are 52 fortnightly issues to collect. Part 1 is £1.50, thereafter it's £2.60 though you can also buy the card packs separately at retail at £1.50 per pack of nine cards.