Monster Invasion Magazine Issue 45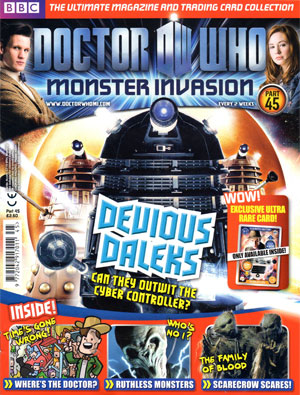 Monster Invasion Magazine Issue 45
Start collecting the awesome NEW Doctor Who Monster Invasion and build up a mega-monster magazine and cool trading card collection.
You can subscribe Here on the official site where you will find all you need to know about Monster Invasion magazine.
In This issue…
*Top 10 ruthless aliens
*Shakri cubes
*The cult of Skaro V Cybercontoller
*The family of Blood
*Where's The Doctor – Times gone wrong
*W is for Winders and more
There are 52 fortnightly issues to collect. Part 1 is £1.50, thereafter it's £2.60 though you can also buy the card packs separately at retail at £1.50 per pack of nine cards.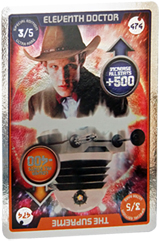 Exclusive Ultra rare card
This issue comes with an exclusive Ultra rare card (3/5 featuring the 11thn Doctor and Supreme Dalek.
*Set 3 will start with issue 32
*There are 126 new cards
*special edition ultra rare
*6 cards with each magazine
*different cards with each issue so you are guaranteed to complete if you get each magazine
*cards will only be available with the magazine
Monster Invasion Time and Space Cards
Monster Invasion have released a set of 40 downloadable cards which you can print out and add to your collection. You can access these cards from your profile page on the Monster Invasion website.