Monster Invasion Magazine Issue 20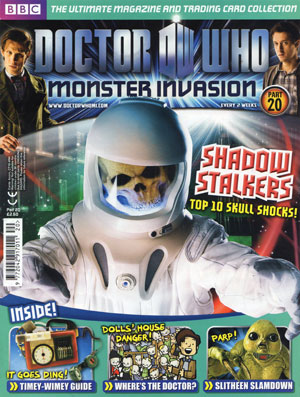 Monster Invasion Magazine Issue 20
Start collecting the awesome NEW Doctor Who Monster Invasion and build up a mega-monster magazine and cool trading card collection.
You can subscribe Here on the official site where you will find all you need to know about Monster Invasion magazine.
In This issue…
*Top 10 skull shocks
*The timey-wimey detector
*Slitheen V The family of blood
*The girl who waited
*Where's The Doctor – Deadly dolls house
*J is for Jenny and much more
There are 52 fortnightly issues to collect. Part 1 is £1.50, thereafter it's £2.60 though you can also buy the card packs separately at retail at £1.50 per pack of nine cards.
Monster Invasion Single Trading Cards
From www.doctorwhomi.com
Have you completed your Doctor Who Monster Invasion trading card collection? If not, we have a limited selection of individual cards from set one. While stocks last and subject to availability.
Please note there is an order limit of 9 cards.
You will be charged 15p for each Common & Rare card, 30p for each Super rare and 50p for each Ultra rare plus £1.00 p&p per order.
UK Only.