Monster Invasion Magazine Issue 10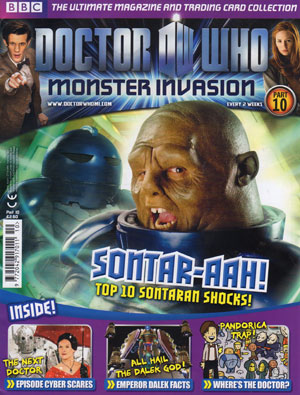 Monster Invasion Magazine Issue 10
Start collecting the awesome NEW Doctor Who Monster Invasion and build up a mega-monster magazine and cool trading card collection.
You can subscribe Here on the official site where you will find all you need to know about Monster Invasion magazine.
In This issue…
*Top 10 Sontaran Moments
*The Veil V Siluians
*Auton hand gun
*Where's The Doctor – The Underhenge
*The Next Doctor
*Quiz zone
*E is for Emperor Dalek
A note for subscribers
This is just to let you know that there is something really special coming with part 11 – we are launching Doctor Who Monster Invasion Extreme – a brand-new second set of awesome Doctor Who trading cards!
Click the image below for a large version of the back of the magazine ssowing some of the new cards…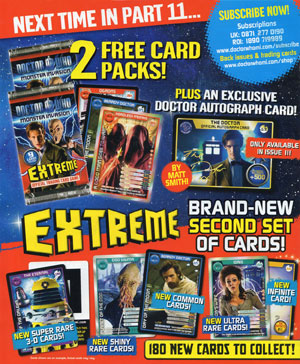 These cards feature loads of brand-new monsters, allies, gadgets and adventures from the new series. We don't want to give away any spoilers so you will be sent part 11 in approx five weeks, together with issue 12. You will also receive an extra FREE pack of the cool new cards PLUS an exclusive special edition Doctor autograph card, which is only available with part 11!
The Doctor Who Monster Invasion Extreme collection features 180 new cards, including six new Super Rare 3-D cards and a scary new Infinite card! The Extreme cards will be available in shops from the 28th September.
We hope you continue to enjoy Doctor Who Monster Invasion and collecting the new trading cards. If you have any queries or need to contact us simply call the customer services dept or email using the details provided above.