Mint Editions Doctor Who Silver-Plated Ingot
Available to order from www.westminstercollection.com*
*Please note as of the 03/10/2018 this company appears to have multiple listings for the same product at different prices. We have linked to what appears to be the lowest priced option. You may wish to check this for yourself before ordering.
This is an ongoing offer if not cancelled
To mark the Doctor's Thirteenth regeneration, the BRAND NEW and officially licensed 'New Doctor Who' Silver-Plated Ingot, has been authorised for release.
Available now exclusively from Mint Editions, it's the very first to feature Jodie Whittaker as the Thirteenth Doctor – the first female Doctor in the series' 55 year history – and is already proving phenomenally popular.
The BRAND NEW Doctor Who Silver-Plated Ingot
As you can see, the Ingot is a perfect limited edition tribute to Jodie Whittaker's Doctor, in her instantly recognisable blue culottes and yellow braces.
Dimensions: 29 x 50mm
Metal: Silver-Plated
Finish: Proof-like
Reverse: Doctor Who
Obverse: TARDIS
Edition Limit: 19,500
And of course, it wouldn't be a Doctor Who commemorative without the TARDIS – meticulously engraved to the very highest frosted and Proof-like finish. What's more, your Ingot has also been plated in 999/1000 Fine Silver. Yours for just £19.99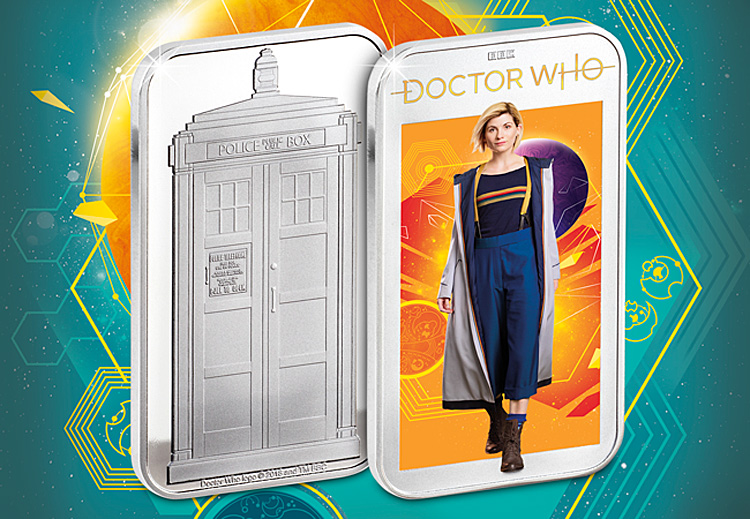 What's more you can secure your 'New Doctor Who' Silver-Plated Ingot for JUST £19.99.
Since it was first aired in 1963, over 840 episodes across 26 seasons have been televised. And that's where you realise the collectable significance of this newly released Silver-Plated Ingot lies. Only 19,500 medals have been authorised.
When you consider that the weekly viewership of the previous season was an astounding 5.64 million, only 1 in every 300 Doctor Who fans will be able to secure their Ingot – far from enough to meet demand in the UK, let alone the rest of the world.