Massive Audio Bluetooth Audio Speakers

Possibly available in the UK mid year

Available to order in the USA from www.amazon.com

Also available to order in the USA from www.thinkgeek.com

Alternatively available to order in the USA from www.entertainmentearth.com
Massive Audio Enters The Tardis To Introduce Doctor Who Bluetooth Audio Speakers
We look forward to utilizing our extensive audio engineering background to create these high caliber speakers.Jeremy Larsson, Director of Operations for Massive Audio
Massive Audio® Inc. today announces their first licensing deal with BBC Worldwide North America for the production of Doctor Who audio products in North America.
These high-quality, innovative speakers will appeal to fans of the hit BBC AMERICA sci-fi series and tech aficionados everywhere. The first collection features an 8" TARDIS (the Doctor's space and time machine) wireless Bluetooth speaker as well as two different versions of a Dalek (one of the Doctor's oldest foes) speaker: Assault Dalek and Dalek Sec . Each model features an array of on-board controls, flashing LED's and audio clips taken from the actual show.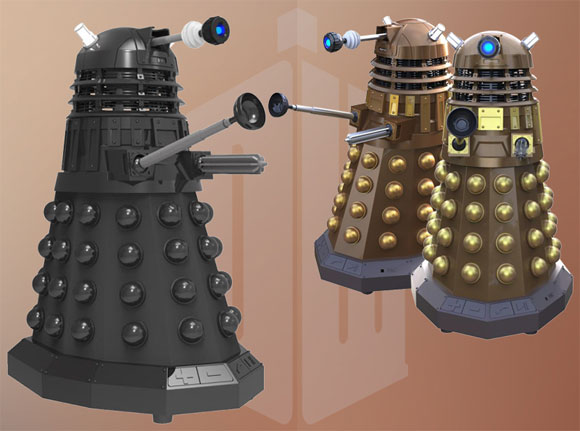 "As longtime fans of Doctor Who,my team is very excited about this project," said Jeremy Larsson, Director of Operations for Massive Audio. "We look forward to utilizing our extensive audio engineering background to create these high caliber speakers."
The company is now accepting pre-orders on its website www.massiveaudio.com at the end of October to catch the high demand for the holiday season. Additionally Massive Audio will be rolling out Doctor Who-themed Bluetooth and wired headphones around the same time and promise more information soon.
All units feature:
TARDIS: Six sound clips such as 'Materialize' and 'Cloister Bell' to indicate functions
Daleks: Six sound clips such as "Exterminate" and 'Gun blast' to indicate functions
TARDIS: LED indicators on top lamp and inner control counsel
Daleks: LED indicators on antennae and eye stalk
Bluetooth Connection with 33' range
Linking capabilities for multiple TARDIS and Dalek surround sound applications
Auxiliary input for direct connection
Built in omni-directional microphone for phone calls with noise cancelation
Multi-Function interface for Volume / Play / Pause / Fast Forward / Rewind / Phone / Power
Built-in noise rejection circuitry
USB rechargeable lithium-ion battery with 10 hour life
Battery indicator display / voice battery low indicator
Includes USB and 3.5mm auxiliary cables