Massive Audio Doctor Who Assault Dalek Speaker

Available to order in the UK from www.forbiddenplanet.co.uk

Available to order in the USA from www.amazon.com #ad

Also available to order in the USA from www.thinkgeek.com

Alternatively available to order in the USA from www.entertainmentearth.com
These collectable TARDIS and Dalek Bluetooth speakers will feature an out-of-this world sound experience along with exciting features such as built-in official fan favorite sound clips directly from the show and LED indicators that sound off and illuminate when different functions are activated.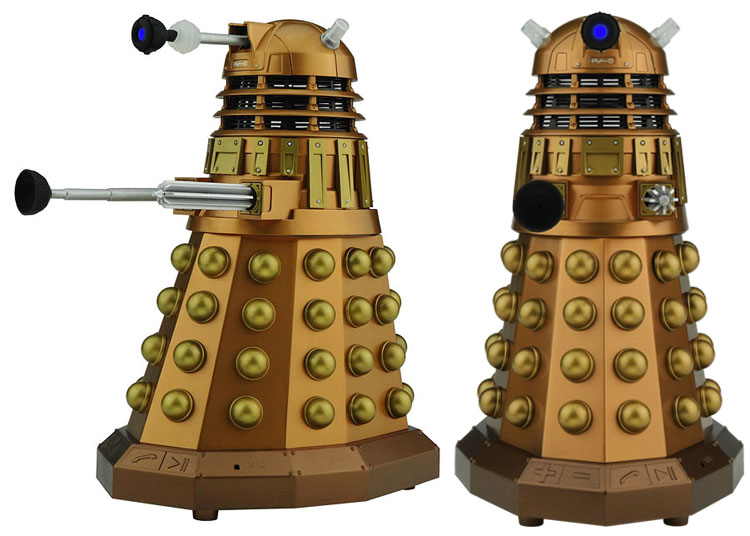 Fans will also be able to link multiple products together to create the ultimate surround sound experience. This will allow the ultra-fan to surround themselves with their own army of Bluetooth Dalek speakers that will rival even the Doctor's own sonic prowess. With exceptional craftsmanship and sound quality, along with a hugely popular following of over 88 million fans, these speakers and headphones are sure to be a hit with millions of fans of every age and demographic.
About the Products:
The Daleks
Dimensions: 7.56H x 4.65"W x 5.79"D
Six sound clips such as "Exterminate" and 'Gun blast' to indicate functions
Eye Stalk illuminates blue when connected to device
Antennae that flash with sound and get brighter with the volume.
Appendages are removable and interchangeable.
Assault Dalek comes with bonus syringe appendage.

Dual Dalek Combo Pack comes with both syringe and claw appendages. Both Combo Packs include Victory to the Daleks poster and DW insignia decal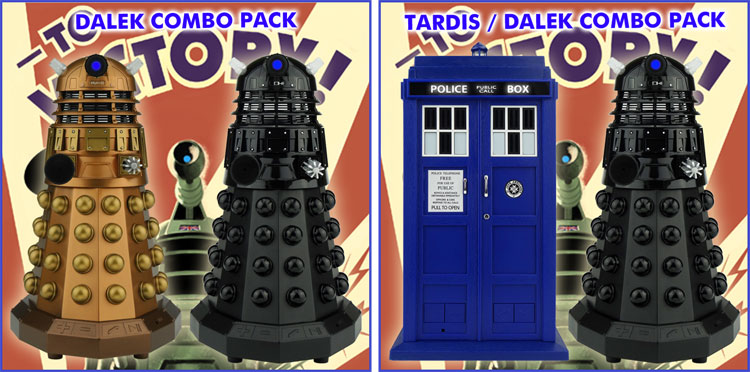 ---
Also Available…
The TARDIS
Faithful replication of the TARDIS in the show
Six sound clips such as 'Materialize' and 'Cloister Bell' to indicate functions POLICE BOX sign illuminates when connected to device
Top lamp flashes when powered On/Off
Product Dimensions 4.4 x 4.4 x 8.5 inches

Available to order in the UK from www.forbiddenplanet.co.uk

Available to order in the USA from www.amazon.com #ad

Also available to order in the USA from www.thinkgeek.com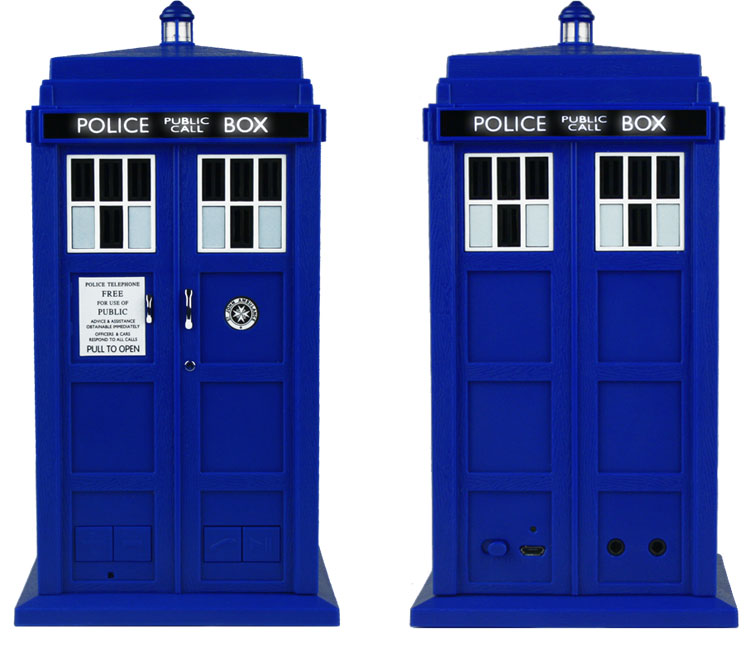 All Speakers Contain:
Bluetooth Connection with 33' range
Linking capabilities for multiple TARDIS and Dalek surround sound applications
Auxiliary input for direct connection
Built in Omni-directional microphone for phone calls with noise cancelation
Multi-Function interface for Volume / Play / Pause / Fast Forward / Rewind/Phone/ Power
Built-in noise rejection circuitry
USB rechargeable lithium-ion battery with 10 hour life
Battery indicator display / voice and LED battery low indicator
Includes USB and 3.5mm auxiliary cables