London Silver Company Doctor Who Gifts
As Doctor Who returns to television screens on Saturday 19th September, sci-fi fans can celebrate the reappearance of the Time Lord with this collection of handmade sterling silver accessories from The London Silver Company. Featuring Doctor Who's most iconic symbols, these pendants, pins and cufflinks were created for the BBC and are perfect gifts for avid viewers of the show.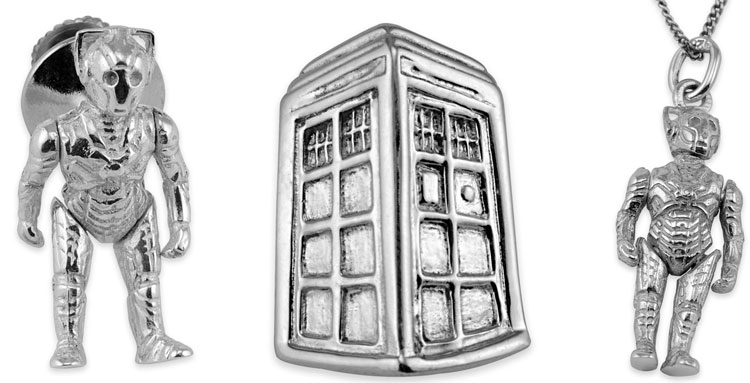 Sci-fi fans will be bowled over by these Tardis cufflinks. Made from sterling silver and created for the BBC, this set of cufflinks features the iconic time travelling police box from the hit series. Time travel is not included, but these timeless accessories are perfect for Doctor Who fans and will inject a bit of personality into any outfit. Priced at £70.
Handmade in 925 sterling silver, this Cyberman pendant necklace makes a cool addition to any quirky jewellery collection and features an impressive amount of detail, with swivel head, arms and legs. Priced at £40.

A subtle way to add the sci-fi touch to any outfit, this Tardis pin brooch is ideal for male and female Doctor Who fans. Whether you are heading to a black tie event, Doctor Who convention or want to add that special something to a work outfit, this handmade sterling silver pin provides that all-important finishing touch. Priced at £35.
Wear the ultimate Doctor Who villain on your sleeve with these impressive Cybermen cufflinks. Based on the humanoids from the hit series, this set benefits from characters with moving parts, including head, arms and legs that swivel. Priced at £59.50.
The London Silver Company offers one of the widest ranges of handmade sterling Silver gifts in the UK. All of the solid sterling Silver items are handmade and hallmarked at the London Assay office.
The London Silver Company.com includes in its range an eye-catching selection appealing to men and women, and also as the perfect silver gifts for birthdays, weddings and anniversaries.
For more details on the full range of Doctor Who accessories please visit www.thelondonsilvercompany.com