Lethbridge-Stewart The Showstoppers
Available to order from www.Candy-Jar.co.uk

You can also order this title and other Lethbridge Stewart books in the UK from www.amazon.co.uk

You can also order this title and other Lethbridge Stewart books in the USA from www.amazon.com #ad
LETHBRIDGE-STEWART'S LIFE WILL CHANGE FOREVER!
Candy Jar Books has released further information about the second Lethbridge-Stewart release of 2016, The Showstoppers by Jonathan Cooper.
As well as introducing a new writer to the range, The Showstoppers plays out a major turning point in Lethbridge-Stewart's life, as he is rewarded for all his hard work since the Doctor Who serial, The Web of Fear.
Range editor, Andy Frankham-Allen, says: "It's something we've been working towards – a pivotal Lethbridge-Stewart moment."
Author, Jonathan Cooper, agrees: "It's genuinely a massive honour to be given this responsibility; to dramatise the events leading up to something that most fans would certainly like to see. I wish I could say what it is, but that would ruin what's going to be a big surprise."
The Showstoppers taps into the booming television industry of the 1960s, in particular the popular super-spy thrillers such as The Saint, Danger Man and The Avengers, blending it with more than a hint of the b-movies of the 1950s, all revolving around a secret Nazi plan left over from World War II.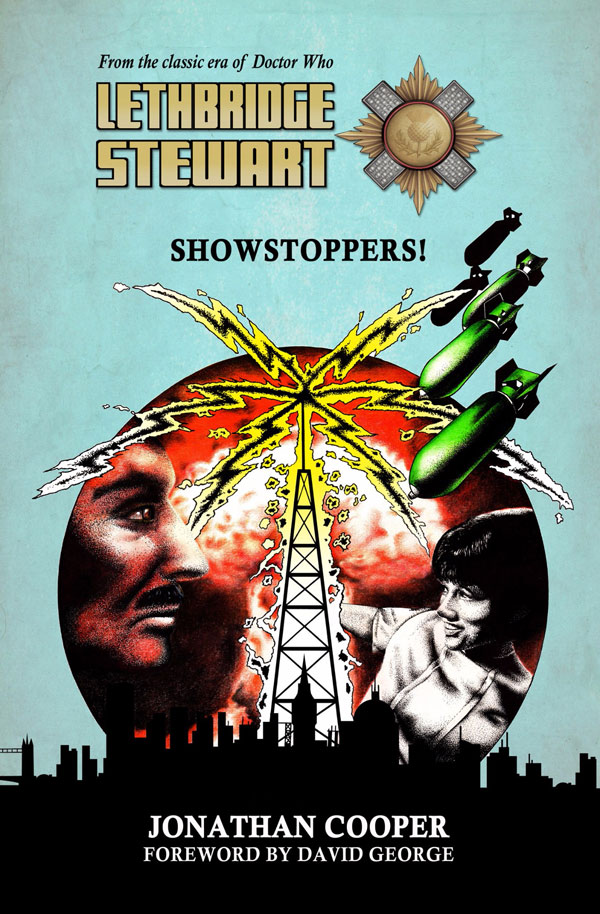 Jonathan Cooper continues: "It was initially inspired by the film Dr Strangelove. At the pitching stage we even had Strangelove as the primary villain, along with a neat little twist to tie the Kubrick film into the world of Lethbridge-Stewart. But we soon moved beyond that, which gave the book a wider scope and allowed me to have a lot more fun with it. There's still a couple of sly references in there though – including one bit towards the end that I hope readers are going to find
particularly chilling."
The book also features an introduction by David George, son of Dr Strangelove writer Peter George, focusing on the conspiracy theories that tie Dr Strangelove to the Kennedy assassination.
And as if that wasn't enough, it also introduces the forth lead character of the range. Head of Publishing, Shaun Russell, says: "From day one it has always been our intent to build up something of an ensemble cast of characters, with four main characters leading the way. That started with our licensed characters, Lethbridge-Stewart and Anne Travers, complimented by our very own Corporal William Bishop, who first appeared in our initial release, The Forgotten Son. Now we're very pleased to introduce Samson Ware to our readers. A very different character to any seen in the range before, and someone quite unique for a series set in the late-'60s, early-'70s, a man of Bajan origin."
Jonathan Cooper is no stranger to Doctor Who, having once served as Doctor Who correspondent for The Mirror and The Independent online papers. He has previously written two novels for Space: 1889 series, co-writing one with Lethbridge-Stewart range editor, Andy Frankham-Allen.
Andy Frankham-Allen says: "Jon first came to my attention back in 2007 when I was running the eZine, Pantechnicon. He submitted one of the best short stories I have ever read, and ever since then I have tried to give him as much work as possible. The world can never have too much of Jon's writing. His sense of humour, and great instinct for twisting a tale on its head, has always been a hallmark of his writing, and it's this skill that he brings to Lethbridge-Stewart."
All pre-orders of The Showstoppers will receive a free digital-only short story, The Band of Evil, by Roger J Hammond and Shaun Russell.
The usual discounted pre-order bundles will be on offer from Candy Jar, with a new subscription deal for those wishing to get six books for the price of five!