Lethbridge-Stewart The Grandfather Infestation
Available to order from www.Candy-Jar.co.uk

You can also order this title and other Lethbridge Stewart books in the UK from www.amazon.co.uk

You can also order this title and other Lethbridge Stewart books in the USA from www.amazon.com #ad
Candy Jar Books is pleased to announce the return of John Peel to the worlds of Doctor Who prose fiction, as they release the cover art and blurb of the forthcoming Lethbridge-Stewart release, The Grandfather Infestation.
John Peel has a long affiliation with Doctor Who prose fiction. In the late 1980s he was personally picked by Dalek creator Terry Nation to novelise the remaining 1960s Dalek serials, including the epic twelve-part story The Daleks' Masterplan and Patrick Troughton's debut, The Power of the Daleks. He was also the author chosen to launch the very first original Doctor Who prose novel, Timewrym: Genesys in 1991, and twenty-five years later he's back!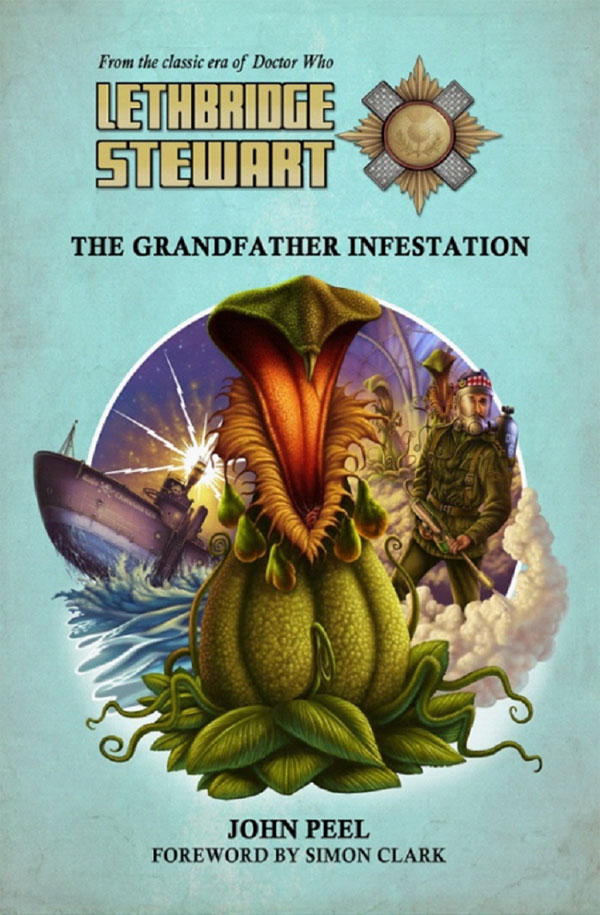 John Peel says: "There's always been something rather special for me when I'm writing in the worlds of Doctor Who. When I wrote Timewyrm: Genesys twenty-five years ago, I was excited the entire time – I couldn't wait to get to work on the story each morning. And here I am, a quarter of a century later, and the same excitement is still there."
The Grandfather Infestation is inspired somewhat by the plant horror stories made popular by the likes of John Wyndham. Author Simon Clark, who wrote the official sequel to The Day of the Triffids, says: "Plants are on the march – at least in our imaginations, they are. Doctor Who embraced the theme in The Seeds of Death and The Seeds of Doom, and, no doubt, you can identify many more. And now John Peel gives us The Grandfather Infestation, a fantastically entertaining, and horrifying novel, which suggests that everything that's green and grows from the earth might not be as harmless as we think."
Range Editor Andy Frankham-Allen says: "I've always been a huge fan of Wyndham's work, and I knew I wanted something in a similar vein. I asked John to give us something Triffid-esque and he did exactly that. He's created a nice blend of genres, mixing the best elements of storytelling that you'd find in the works of Robert Banks Stewart and Wyndham, giving it Peel's own distinctive twist. And John is no stranger to twisting tales, make no mistake. He's been writing prose fiction beyond Doctor Who continuously for over twenty-five years, and you don't do that without being good."
Despite his long association with Doctor Who, this is the first time John Peel has written for the character of Lethbridge-Stewart. "Being allowed to create a new adventure for that stalwart character, Brigadier Alistair Gordon Lethbridge-Stewart was both an honour and a truly great pleasure. Even writing revisions didn't seem too much of a chore!"
The cover is by Colin Howard, who previously painted the cover art for Beast of Fang Rock.
Blurb: The late 1960s and pirate radio is at its height.
Something stirs in the depths of the North Sea, and for Radio Crossbones that means bad news.
Lethbridge-Stewart and his newly assembled Fifth Operational Corps are called in to investigate after the pirate radio station is mysteriously taken off the air, and a nuclear submarine is lost with all hands.
The usual discounted pre-order bundles will be on offer from Candy Jar, with a new subscription deal for those wishing to get six books for the price of five!
The Grandfather Infestation is now available for pre-order, for £8.99, directly from www.candyjarbooks.co.uk due for release at the end of July.