Lethbridge-Stewart Blood of Atlantis
Candy Jar Books is pleased to announce the latest Lethbridge-Stewart novel, coming November 2016!
Blood of Atlantis is the ninth novel in the Lethbridge-Stewart series, which began February 2015, and sees the return of author Simon A Forward to the Doctor Who fictional-verse.
Simon was born in Penzance in 1967, and has, over the years, written a couple of Doctor Who novels for BBC Books, a novella for Telos Publishing, an audio drama or two for Big Finish, plus various short stories. Outside of Doctor Who he written three novelisations of the BBC's popular Merlin series, and had created his own series of novels, Evil Unlimited.
Range Editor Andy Frankham-Allen says: "I was feilding around for new authors to bring to the range; authors familiar with Doctor Who but who haven't written in that universe for a while. A couple of people, including Gary Russell, suggested Simon as someone who would 'get' the series and is very reliable. So, never one to ignore advice of those I (sometimes) admire, I contacted Simon."
Simon says: "As Al Pacino says in The Godfather Part III, 'Just when I thought I was out, they pull me back in.' When I was asked to write for the Lethbridge-Stewart range, I was a little hesitant. I wasn't sure I wanted to return to writing anything Doctor Who-related. I'd moved on in my writing and – much as this may horrify some – I'd grown a little tired of Doctor Who. It was originally quite a different proposition to the finished book that has since emerged, but that process of development and working with Andy was part of the appeal that drew me in and cemented my commitment to the project. Add to that the fact that my (still ongoing) rewatch of Doctor Who took me through The Web Of Fear and The Invasion while I was right in the heart of writing this early Brigadier adventure, and the whole thing seemed like providence. And here I was, with the opportunity to write Anne Travers too. Bonus!"
As well as dealing with the series regulars, including Lieutenant Bishop and RSM Ware, Simon has created some unique characters, including a previous creation of his. Simon continues: "Captain Bugayev is already part of the Doctor Who book universe and it was a fascinating process to explore and contrast the two different approaches and attitudes of the leading military officers, especially two I knew so well. One (Lethbridge-Stewart) courtesy of having grown up with him as such a presence in my Saturday teatime viewing, one through having created him for my Doctor Who novel, Emotional Chemistry."
The book also revolves around the mystery of Atlantis. An theme that is no stranger to Doctor Who fiction, having appeared in two separate Doctor Who television adventures (The Underwater Menace and The Time Monster) and having been mentioned in another (The Daemons).
Andy says: "When Simon first suggested Atlantis I wasn entirely convinced, knowing that its fate had been mentioned three times in Doctor Who (which fans often view as contradictory, but aren't really), and in the latter Lethbridge-Stewart was present – if not at the event, then he certainly heard about it. But Simon set my fears at ease and presented a unique idea about how his Atlantis would fit perfectly, without contradiction or any need to have seen the television stories."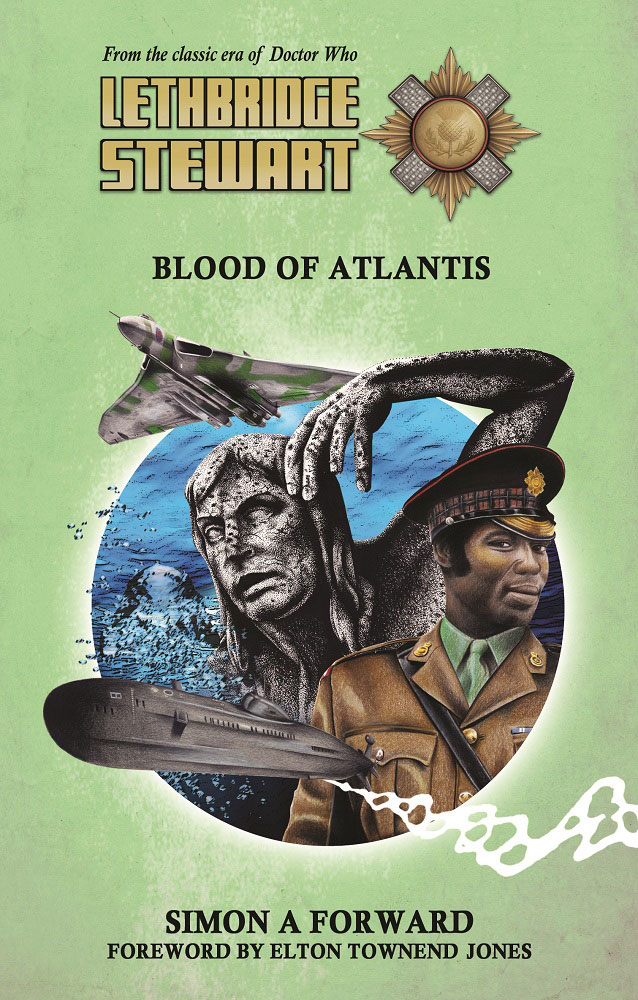 Simon adds: "The story was initially going to be something else and developed over time and discussions with the editor. One of the things I wanted to do was to take the Fifth Operational Corps somewhere international, as a precursor to UNIT (even though UNIT operated in the UK on our TV screens, they ranged much further in my young imagination) and place them on a wider stage. The Atlantean connection suggested itself from a combination of that aim and from an old story idea of mine that fit the bill well. There was also a sense of, if I was going to write something Who-related, then Atlantis has been as recurring a feature of the show as some returning guest actors. Readers will be sure to spot a liberal sprinkling of homage within the novel and that's born of the same desire."
The cover is by Richard Young. Richard says: "Blood Of Atlantis – the difficult second album! I'd had a lot of positive feedback on my first cover, The Showstoppers, but the more I looked at it the less I liked it, and the more I looked at the covers produced by my stable mates, I knew I had to up my game. I was chatting with Simon via Facebook one evening about his ideas for the cover, and he kept coming back to The Sea Devils novelisation cover by Chris Achilleos. I was getting quite excited by the prospect of doing something along those lines."
Could Atlantis really have arisen in the Aegean Sea?
Lethbridge-Stewart's nephew, Owain Vine, and a group of eco-protestor friends, are attempting to oppose an operation undertaken by Rolph Vorster, a ruthless South African mining magnate with his own private army, who is out to harvest as much Atlantean riches as he can.
Lethbridge-Stewart, along with Anne Travers, is called in to investigate a missing Russian submarine that appears to be connected to Atlantis, recruiting the colourful eccentric archaeologist, Sonia Montilla, along the way. All the while, Captain Bugayev and an undercover Spetsnaz team are investigating the fate of their government's missing submarine. A complication that could light a major fuse on the Cold War.
Out there somewhere, Atlantis is growing, and its reach is utterly inimical to human life.
Blood of Atlantis can be pre-ordered individually, or as part of the Series 3 Bundle (both UK and overseas), which includes the novels, Times Squared by Rick Cross (available now), and Mind of Stone by Iain McLaughlin (coming December), or the subscription deal for those wishing to get six books for the price of five (UK only, covering the series three titles, plus the series four titles released early 2017)!
Pre-order directly from www.candy-jar.co.uk; Blood of Atlantis is due for release at the end of November.