K9 Annual 1983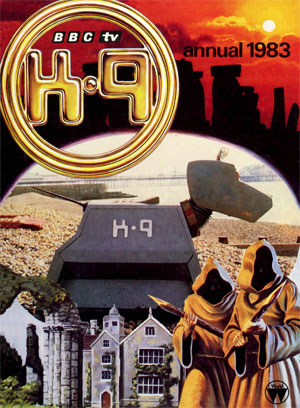 K9 Annual 1983
K9 is no ordinary canine. To give him his precise due, he is a real-time data analyser robot, who just happens to be in the shape of a mechanical dog.
With his original master, the Time Lord Dr Who, K9 has already seen action and adventure a-plenty, and he's analysed himself and the Doctor out of many a tricky corner.
K9's space-travelling days are behind him now, but that doesn't mean he's out of action. Quite the opposite, in fact.
K9 has been assigned to assist investigative journalist Sarah Jane Smith in the course of her dramatic exposes and startling stories,and he's already proving to be just the kind ofhelpmateevery investigative journalist needs. He doesn't get flustered (that was never in any of his memory programmes), and he possesses all the loyalty and obedience of the more familiar four-footed friends.
As for intelligence, well, K9 would be a candidate for Mensa if they had any openings for metal members. He has an IQ of over 300, and can analyse a problem with devastating accuracy, in less than twoflicks of a dog's tail…so to speak.
K9 has a blaster in his snout which extends to stun any adversary, and it can even kill, if the danger is sufficiently deadly. He can move his head up and down in order to direct this blaster, which shoots offa powerful red ray.
Not to be confused with the blaster, K9 also has a probe, which extends from his head to allow him to analyse objects which would otherwise be just out ofhis range.
K9 has been programmed to speak his replies to questions, but for occasions when he is left alone to conduct detailed analyses, he has also been equipped with a ticker-tape facility, which discharges from his mouth.
He is fitted with tracks, to facilitate movement on rough ground, and one other feature of note is his tail,which moves up and down and from side to side. Thisis an indicator ofK9's opinions on various matters, and it does have a certain