K9 and The Zeta Rescue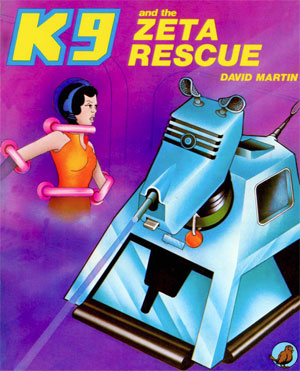 K9 and The Zeta Rescue
FROM:Gallifrey Databank
TO: Gallifrey High Command
CLASSIFICATION: Most Secret
SUBJECT K9
HISTORY Robot dog designed and first constructed by a certain Professor Marius (type: Earth, male) in year 5000 A.D. Built as a mobile computer unit and pet replacement. Later modified by Time Lord Theta Sigma (also known as 'The Doctor')to improve performance.
POTENTIAL USE Now capable of independent missions in situations classed as too dangerous for Time Lord intervention.EQUIPMENT Sophisticated polysensory tracking systems. Selfenergising drive and decision-making capability. Multiphase photon-blaster infinitely variable from 'immobilisation' to 'dematerialisation'.
SPECIAL EQUIPMENT Spacecraft K-NEL. Ion rocket motors (3) only. No time-travel facility. Operated as extension of K9s central computer, No armaments. Shape, smooth triangular block. Colour, white. Speed: UNDISCLOSED.
'K9 return to Control! We have an emergency. K9 return to Control immediately!'
K9 was flight-testing his new spacecraft K-NEL when the space controller's voice shrieked in his receivers.
Another panic, thought K9, and put the message through for computer checking. The robot dog had saved Time Lords many times in the past: he knew that sometimes their enemies sent fake calls for help. But this time the computer recorded, 'CRISIS GENUINE: OBEY AT ONCE!'
With a wag of his tail, K9 flicked the gleaming white craft into a dive towards Gallifrey.
'Crisis noted,' he told the controller. 'Test flight completed. Landing now.'