IDW Star Trek /Doctor Who: Assimilation2 #4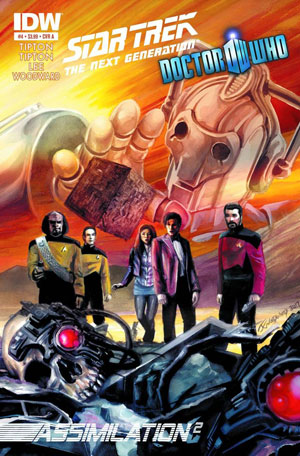 IDW Star Trek /Doctor Who: Assimilation 2 #4
The biggest science-fiction crossover of all time continues, in Star Trek: The Next Generation/Doctor Who: Assimilation2! As the CyberBorg continue to carve a swath of destruction across the galaxy, the Federation is met with the possibility of assistance, but from an unthinkable source! Will Captain Picard and the Doctor agree to an alliance that could be worse than the enemy they face?
*** COVER SUBJECT TO CHANGE ***
Launching in May, STAR TREK: THE NEXT GENERATION/DOCTOR WHO: ASSIMILATION2 will feature fan-favorite villains the Borg and the Cybermen as they create an unholy alliance resulting in potential disaster for all humanity.
Captain Jean-Luc Picard and the crew of the U.S.S. Enterprise find themselves joining forces with the Doctor and his companions, with the fate of the galaxy hanging in the balance.This eight-issue series will be written by Scott and David Tipton, the authors of critically acclaimed Star Trek: Infestation, with a helping hand from longtime Doctor Who writer Tony Lee, and will feature fully painted artwork by J.K. Woodward (Fallen Angel).