IDW Doctor Who Volume 3 Issue 4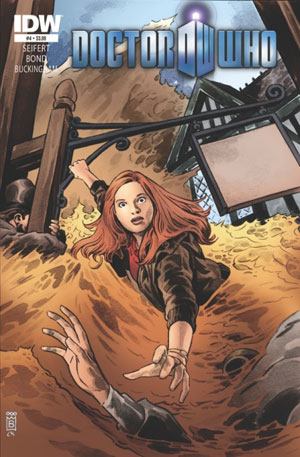 IDW Doctor Who Volume 3 Issue 4
IDW Publishing is proud to announce that Brandon Seifert, co-creator of Image/Skybound's hit Witch Doctor, will be teaming up with Tank Girl and Kill Your Boyfriend artist Philip Bond on issues #3 and 4 of the ongoing DOCTOR WHO comic book series!
"Taking over for series "showrunner" Andy Diggle–who will return for issue #5 and beyond–and Mark Buckingham, keen Who fans SEIFERT and BOND have brought a unique take and a mass of enthusiasm to the Eleventh Doctor's adventures."
"This may sound like hyperbole, but Doctor Who is basically my favorite thing going on in pop culture right now," says Seifert. "I've especially loved Steven Moffat's take on the show, and I'm super excited for the opportunity to write for the comic series!"
Their special two-part story should be a delight to readers as we see just what kind of shenanigans are unleashed upon the galaxy when the Doctor and Rory go for a rowdy night out!
"We've structured the series with Andy as lead writer so that we can bring in creators for a brief visit to the TARDIS that otherwise wouldn't have the opportunity, and this is the first glimpse of that plan," editor Denton J. Tipton said. "I've been looking to work with Brandon since reading Witch Doctor, and finally being able to land Philip Bond has me more than pleased. The story is a fun diversion from Andy's sprawling epic, but keen readers will be able to see the links between them."
IDW Publishing currently publishes a wide range of comic books and graphic novels including titles based on Angel, Doctor Who, GI Joe, Star Trek, Terminator: Salvation, and Transformers.
Full details can be found at www.idwpublishing.com
You can buy issues on-line at the IDW Shop (some regional restrictions can apply) or you can buy digital versions of this and all previous graphic novels from www.idw.comixology.com.
You can also see previews of IDW graphic novels at www.issuu.com